Posts Tagged 'Duck Porridge'
New Lane is truly a street food center in Penang and the place is jam packed with many hawker food stalls and food hunters. Tables are set up in the open, even occupying part of a parking lot of an office complex. The lane is accessible from Macalister Road and Dato Kramat Road. You have to bring a big appetite as there are many delicious goodies at this place.
There are a few stalls that I usually patronized. I love the Grill Chicken located in the Sin Yin Nam coffee shop. The chicken wings and drumsticks are simply delicious. The aroma is so seductive that could drive you insane.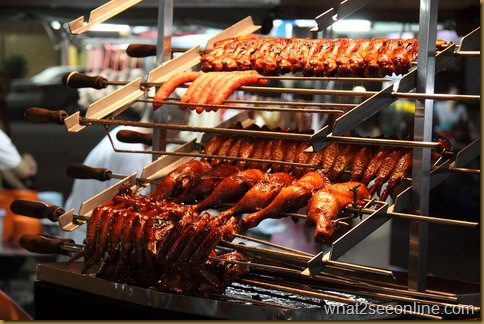 Tags: Apom, Apom Manis, Array, Char Siew, Chee Cheong Fun, Chicken Wings, Chili Paste, Chilli Sauce, Chu Chap Cheok, Coffee Shop, Curry Chee Cheong Fun, Dato Kramat Road, Delicious Goodies, Duck Porridge, Duck Sauce, Food Center, Food Stall, Green Chili Sauce, Grill Chicken, Hawker Center, Hawker Food, Local Delight, Long Strings, Macalister Road, Meat Chicken, New Lane, New Lane Penang, Peanut Sauce, Penang Food, Penang Hawker Food, Pig Blood, Porridge, Roast Duck Meat, Roast Meat, Satay, Shrimp Paste, Sin Yin Nam, Smoky Aroma, Street Food, Sunway Hotel, Sweet Corns, Sweet Sauce, Tasty Dessert, Thick Broth