* This article was published in the New Straits Times (Northern Streets) on 8th July 2011.
I had the pleasure of being introduced to a wonderful place for mee udang. The makan outing had brought us to the mainland. Located in Bukit Mertajam at Seberang Perai, this place is known as Selera Sri Tambang.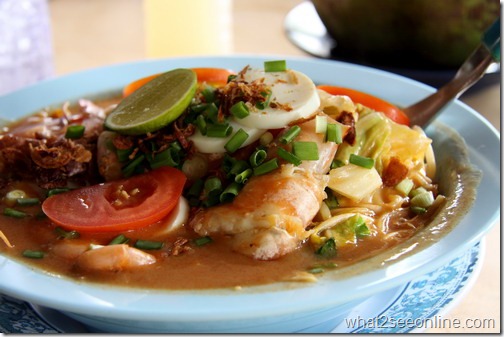 The scrumptious Mee Udang from Selera Sri Tambang!
Tags: 100g, Basic Ingredients, Bean Sprouts, Bukit Mertajam, Coconut Juice, Delicious Taste, Dua, Flower Crabs, Fresh Seafood, Freshwater Prawns, Hard Boiled Egg, Mee Goreng, Mee Kuah, Mee Udang, Mid 1980s, New Straits Times (Life & Times), Noodles, Nutmeg, Penang, Prawns, Rich Broth, Selera Sri Tambang, Shallots, Spicy Flavors, Tambang, Taste Buds, Udang Galah, Wonderful Place