Posts Tagged 'Gao'
* This article was published in the New Straits Times (Life & Times) on 7th November 2010.
I have been devouring tong-sui (Chinese dessert) stalls for years, so it was a great discovery when I finally found Sweet-i. The tong-sui stall operated by Soon and his wife for the last few years in Sungai Dua, has a wonderful sweet range of Chinese style desserts.
Previously located on the roadside at Jalan Helang, the tong-sui stall has since shifted into a nearby house. Customers can enjoy the desserts with sit-down service in the comfort setting of the house.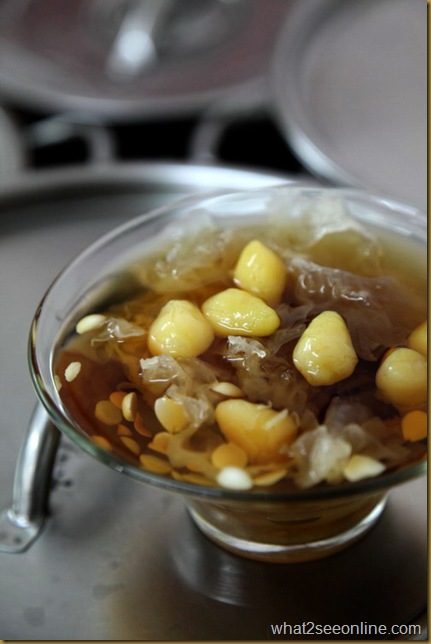 Tags: Black Glutinous Rice, Black Sesame, Bo-Bo Cha-Cha, Brown Sugar, Bubur Cha Cha, Bubur Gandum, Cantonese, Cha Cha, Chinese Dessert, Chinese Style, Coconut Milk, Concoction, Creamy Texture, Dessert Menu, Gandum, Gao, Gui Ling Gao, Herbal Jelly, Husband And Wife, Lou Han Guo, Menu Changes, New Straits Times (Life & Times), New Straits Times (Life & Times), Old School Chinese Dessert, Peanut Tong-Sui, Penang, Porridge, Red Bean, Red Bean Soup, Red Dates, Rm1, Robust Flavor, Screwpine, Smooth Texture, Sungai Dua, Sweet Tooth, Sweet-i, Tong-sui, White Fungus, Wife Team, Zuk