Posts Tagged 'Gateaux'
On my recent trip to Kuala Lumpur, I made my maiden visit to the bakery-cum-cafe Patisserie RUI Artisanal in Mont' Kiara Meridin. This nice cozy place only house a couple of tables, but their array of cakes, pastries, chocolates and snacks are simply mouth-watering.
Emphasizing on the petite and beautiful presentations, RUI makes it a point to ensure the packaging of their products are charming. The chocolate and cookies are all wrapped up in boxes and bags with colorful ribbons, indeed very suitable for gifts & treats.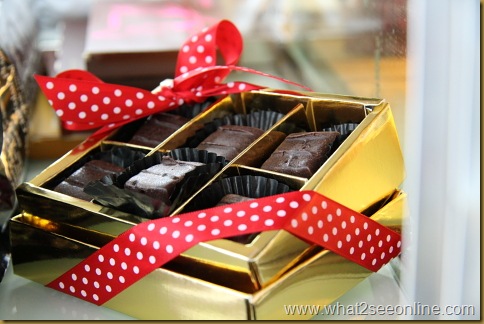 Tags: Amp, Array, Artisanal, B52, Bakeries, Beverages, Chocolate Cake, Chocolates, Claypot, Colorful Ribbons, Cozy Place, Eye Catcher, Fruit Cake, Gasing, Gateaux, Grandmarnier, Hot Coffee, Jalan Duta, Kuala Lumpur, Maiden Visit, Meridin, Moist Texture, Mont Kiara, Mousse, Patisserie, Perfect Match, Petaling Jaya, Red Velvet, Red Velvet Cupcake, Rui, Soft Spot, Special Occasions, Sweet Tooth, Tea Lovers, Tea Time, Teatime, Tender Crumb, Whipping Cream, White Chocolate