* This article was published in the New Straits Times (Northern Streets) on 3rd May 2011.
One will find numerous hawker stalls serving a wide array of local delights at Gurney Drive Hawker Center in Penang. Nasi lemak lovers should try the all-time favourite at Nasi Lemak Cili Bilis. The stall specialises in nasi lemak kukus (steamed rice in coconut milk). (The owner, Hashim Haji Ismail who is the champion in the Battle of Penang Hawker Masters 2012's nasi lemak category has switched to using palm milk  instead of coconut milk).

The rice, cooked with ginger, coconut milk and pandan leaves that give it an amazing aroma, is steamed on the spot on large metal trays in a giant steamer.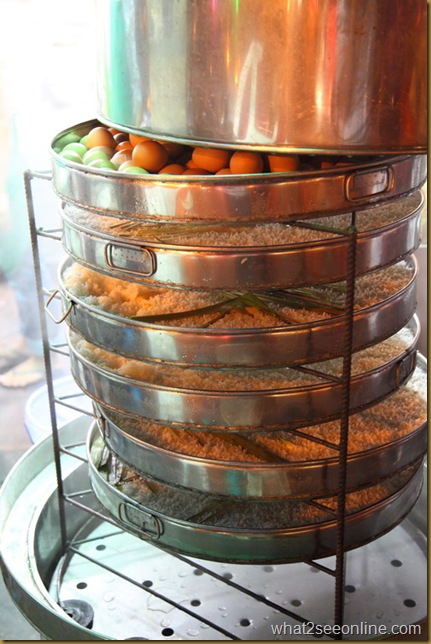 Rice and egg steamed in the premises itself
Tags: Anchovies, Anjung Gurney, Ayam Goreng, Battle of Penang Hawker Masters 2012 Nasi Lemak Champion, Coconut Milk, Coconut Rice, Crunchy Peanuts, Cucumber Slices, Deep Fried Chicken, Fragrant Coconut Rice, Fried Egg, Glutinous Rice, Gurney Drive Hawker Center, Haji Ismail, Hard Boiled Egg, Hashim Haji Ismail, Hawker Center, Hawker Centre, Hawker Fare, Hawker Food, Hawker Stalls, Idyllic Place, Ikan Bilis, Local Delights, Metal Trays, Nasi Lemak Cili Bilis, Nasi Lemak Cilibilis, Nasi Lemak Kukus, New Straits Times (Life & Times), New Straits Times (Life & Times), New Straits Times (Northern Streets), Pandan Leaves, Pulut Durian, Rm2, Santan Pulut, Sticky Rice, Sunrise Mc Donald, Tasty Meal