Posts Tagged 'Kari Kapitan'
* This article was published in the New Straits Times (Life & Times) on 12th July 2011.
The recently opened Nyonya Breeze Desire restaurant in Straits Quay carries on the tradition of Peranakan cuisine associated with Penang. The food are similar to that at its outlet in Abu Siti Lane.
Cooking Nyonya food has always been a meticulous affair and Nyonya Breeze Desire had the cuisine prepared with great attention to detail, balancing flavours and taste. The impressive range of dishes include nasi ulam, inche kabin, sambal goreng, asam pedas and braised meat.
The dishes came in large and small portions. I chose the latter. The starter was a plateful of jiu hu char or stir-fried sengkuang (RM13.90) served with fresh lettuce and sambal belacan. The gravy had hints of mushroom, carrot and dried squid. All in all, a perfect dish.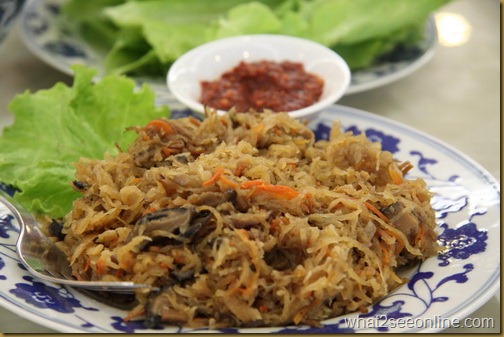 Tags: 12th July, Aromatic Herbs, Asam Pedas, Betel Leaf, Chicken Curry, Choon Peah, Classic Chicken, Coconut Milk, Daun Kaduk, Ginkgo Nuts, Gravy, Impressive Range, Inche Kabin, Kabin, Kaffir Lime Leaves, Kapitan, Kari Kapitan, Nasi Ulam, New Straits Times (Life & Times), New Straits Times (Life & Times), Nyonya Breeze Abu Siti Lane, Nyonya Breeze Desire, Nyonya Breeze Desire Straits Quay, Peah, Penang, Penang Nyonya Food, Peranakan Cuisine, Perut Ikan, Pig Stomach, Sambal Belacan, Sambal Goreng, Spring Rolls, Stomachs, Straits Quay, Tender Pieces, Too Tor T'ng, White Rice, Worcestershire Sauce