* This article was published in the New Straits Times (Northern Streets) on 9th May 2011.
Penang is dotted with many restaurants, with some hidden unnoticed even though we often pass by it. One such place is Chin Bee Tea Restaurant. Located on Noordin Street, or commonly known as 'Ji Tiau Lor' among the Hokkiens here, this tea house is unique in its own way. This place is not all only about serving Chinese tea, but also serves appealing Chinese dishes.
One of their best dishes offered here is the Hainan Kampung Chicken. Dosed in the chef's concoction of light soy sauce and oil, the chicken is tender and juicy. The condiment of fresh and fragrant chilli sauce blend with garlic and ginger is a must-have. I highly enjoyed the chicken with its natural sweetness flavor.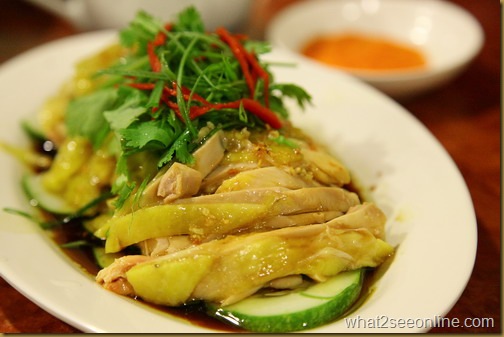 Tags: Chilli Sauce, Chin Bee Tea Restaurant, Chinese Dishes, Chinese Tea, Classic Steam, Egg Yolk, Fish Sauce, Freshwater Fish, Fried Tofu, Garlic Oil, Hainan Kampung Chicken, Hearty Dish, Hot Wok, Light Soy Sauce, Light Tug, Natural Sweetness, New Straits Times (Life & Times), New Straits Times (Life & Times), New Straits Times (Northern Streets), Non-Halal, Noordin Street, Pang Pang, Patin Fish, Red Pepper, Spare Ribs, Spicy Sauce, Sweet And Sour Pork, Tea House Penang, Tender Meat