Posts Tagged 'Michelin Star Restaurants'
* This article was also published in the New Straits Times (Life & Times) on 31st July 2010.
The newly-opened Mandarin Grill brings luxury dining to a whole new level with its beautiful ambiance, delicious dishes and exotic cutlery!
Mandarin Oriental Kuala Lumpur stands tall with the opening of its latest restaurant, the exclusive and contemporary modern Mandarin Grill. Located in the heart of Kuala Lumpur, this restaurant is complete with an inbuilt fireplace, elegant interior and floor to ceiling windows revealing a beautiful garden.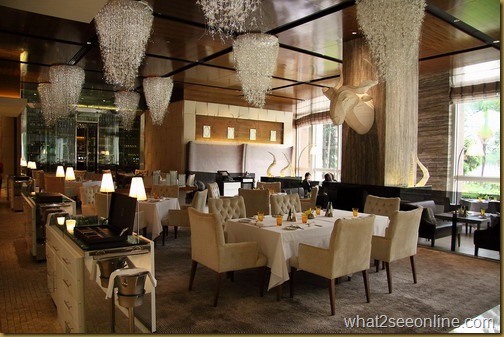 Tags: 1824 Tenderloin, Arugula Seafood Rissoto, Black Angus Sirloin, Cedric Darthial, Chef De Cuisine, Classic Dishes, Culinary Career, Delicious Bread, Delicious Dishes, Delightful Lunch, Duck Breast, Duck Meat, Elegant Interior, Foie Gras Au Torchon, Fresh Fruit Juices, Ginger Chutney, Gratin Dauphinois, Grilling, Laguiole, Lush Greenery, Mandarin Grill, Mandarin Oriental Kuala Lumpur, Manjari Chocolate Ganache, Mesclun, Michelin Star Restaurants, Mild Flavor, MO Bar, New Straits Times (Life & Times), New Straits Times (Life & Times), Pumpkin Veloute Soup, Seared Sea Bass, Smoked duck breast, Smoking, Tomato Salsa, Types Of Butter, Yellow Fin Tuna