Posts Tagged 'Nasi Pandang'
* This article was published in the New Straits Times (Life & Times) on 24th May 2011.
If you're at Chowrasta Market in George Town, Penang, stop by Tamil Street, located on one side of the market building. This street is worth exploring for its variety of street food. Look out for a stall selling Ais Tingkap (translated as window sherbet). This classic chilled drink is named such because it used to be sold through an open window.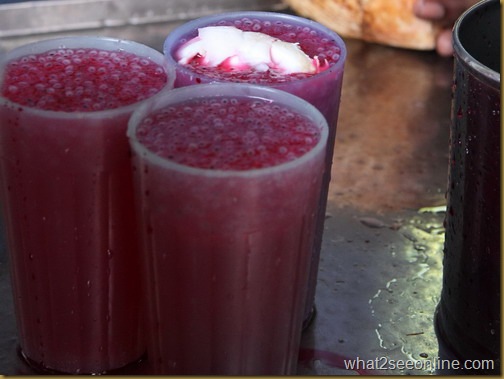 Tags: Ais Tingkap, Anggur, Bakso, Bakso Nasi, Basil Seed, Charcoal Fire, Chopped Peanuts, Chowrasta Market, Coconut Flesh, Cucur Udang, Curry Itik, Fragrant Herbs, Fried Tofu, Ground Peanut, Gum Resin, Hand Held Fan, Hawker Food, Itik, Lime Juice, Lontong, Mutton Satay, Nasi Pandang, New Straits Times (Life & Times), New Straits Times (Life & Times), Olibanum Gum Resin, Palm Sugar, Pecel, Penang Hawker Food, Pesto Bandeng, Rawon, Samosa, Satay, Selasih, Spicy Sauce, Street Food, Tamil Street, Tingkap, Tiny Shrimp, Vadai, Window Sherbet, Wooden Mortar