Posts Tagged 'Pee'
A visit to Sunshine Bay for dinner had the few of us indulging in several types of seafood dishes. This eatery, located in Kedai Kopi Sin Eng Huat at Tanjung Bungah is just right beside the traffic light junction, directly opposite  the famous Penang Tanjung Bunga Goreng Pisang stall. The place looks quite old with the fluorescent lightnings going on and off during our visit on a rainy day. Anyway, the food was awesome!
I am sharing the absolutely scrumptious noodle dishes first. The Kappa Mee Suah and the Stir Fried Noodles with Crab are two lovely choices that we started with. Meesuah was smooth on the tongue and extremely flavorful with the egg and fresh kappa.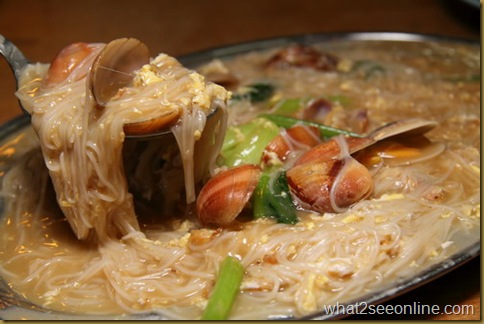 On the other hand, the yellow noodles are stir fried with crab, robust with the crustacean juices. The noodles are best left absorbing the gravy as it tends to get slightly moist and more flavorful. I could not resist a second helping of the noodles! The crab flesh was juicy, and with the gravy coating it, the dish was heavenly!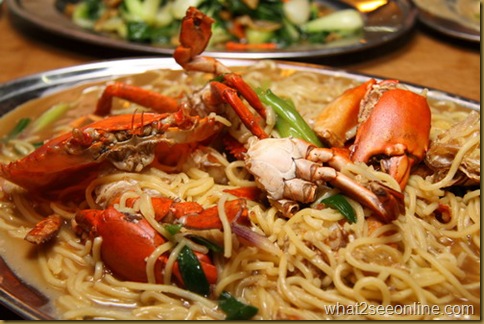 Tags: Appetite, Bay Seafood, Business Hours, Chicken Pieces, Chili, Chu Char, Delicious Feast, Delicious Noodles, Dish, Eng Huat, Fish Lovers, Fishy Smell, Flesh, Flouresent, Fried Noodles, Garlic, Ginger, Gravy, Guiness, Jalan Tanjung Bungah, Juices, Kappa, Lightnings, Noodle Dishes, Pee, Penang, Penang Restaurant, Prawn, Rainy Day, Seafood Dishes, Seafood Restaurant, Stingray, Sunshine Bay, Sunshine Bay Seafood, Tanjung Bunga, Tanjung Bungah, Tanjung Bungah Penang, Traffic Light Junction, White Rice