BY CK Lam
Iconic American Chinese Chef Martin Yan of 'Yan Can Cook' TV series fame, was in Penang for the filming of the new TV programme 'Taste of Malaysia'.
The Penang episodes features the chef visiting many hawkers, food vendors and restaurants, and tasting dishes that make up the Malaysian food scene – Chinese, Malay, Indian and Nyonya.
Besides scouting locations with the production team, I was also on board, doing some street food hopping scenes around the city with the chef. It was truly an opportunity to learn from the humble chef himself. The filming outing is challenging and fun, and is an experience truly cherished and remembered.
I can't give away much of what's going to be on the show but here are some of the behind-the-scenes photos…
Media and bloggers had the opportunity to catch up with chef Martin at the 'Rooted In Nature' event held at Golden Sands Resort by Shangri-La. The resort is leading the way in sustainable seafood and the chef is joining in the resort's culinary journey.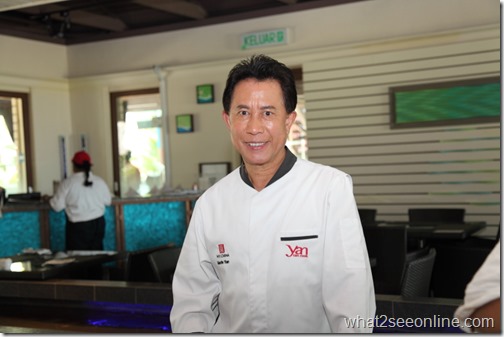 Tags: Behind-the-scenes, Ck Lam, Executive Chef Adrian Lim, George Town, Golden Sands Resort by Shangri-La, GST Group Fish Farm, Iconic American Chinese Chef Martin Yan, Nyonya Curry Kapitan Fish, Penang Episode, Penang Food Blog, Penang Hawker Food, Rooted In Nature, Shangri-La Hotels and Resorts, Suleiman Tunku Abdul Rahman, Taste of Malaysia TV Programme, What2seeonline.Com, Yan Can Cook