Posts Tagged 'Penang Wedding Banquet'
BY CK Lam

Bayview Hotel offers full service hosting for weddings in its location in George Town. The planning team came up with several wedding packages, the Platinum and Diamond priced at RM588++ and RM688tt per table of 10 (for a minimum of 30 tables).
The perks of the wedding package are complimentary night stay for the wedding couple in the hotel's bridal suite, invitation cards, guest registration book and VIP car park for the bridal car. The RM688++ package has additional perks of one night complimentary stay in the hotel's superior room with breakfast for two, bottle of sparkling wine and pre-dinner cocktail. The RM588++ package comes with complimentary buffet dinner at the Revolving restaurant.
The wedding package includes an eight course Chinese dinner in the hotel ballroom. Senior sous chef Soon who specializes in Chinese cooking incorporate a mix of fusion in the design of the dishes while in the same time staying in line with the traditional classic style.
The eight dishes can be chosen from a list of menu. The Four Happiness Combinations platter was huge with combinations of stir-fried chicken with cashew nuts, golden crispy William potato, kerabu mango with wakame and mushroom dumpling with teriyaki sauce. According to chef Soon, couples have a choice of selecting the platter menu.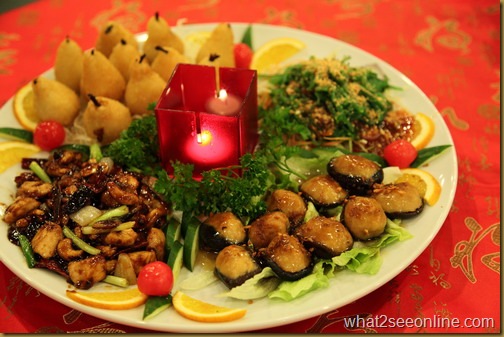 Tags: Bayview Hotel Georgetown, Bayview Hotel Georgetown Penang, Black Vinegar, Cashew Nuts, Chinese Dinner, Chinese Dish, Chinese Herbs, Ck Lam, Clay Pot, Complimentary Buffet, Complimentary Night, Dinner Cocktail, Fried Prawns, Hassle-free Wedding, Herbal Chicken, Hotel Ballroom, Invitation Cards, New Straits Times (Life & Times), Penang Wedding Banquet, Registration Book, Revolving Restaurant, Shredded Chicken, Spice Powder, Thick Gravy, Wakame, Wedding Package