Posts Tagged 'Pinang Delicious Food Court'
* This article was published in the New Straits Times (Northern Streets) on 14th April 2011.
Nasi Campur Melayu is a relatively new addition to the nasi Melayu stalls in George Town. This stall was set up a few months ago in Pinang Delicious Food Court on Macalister Road by siblings Roslina and Rosniza binti Mansor.
Originally from a coffee shop in Island Glades, the sisters have since moved their business down town. The dishes taste different from those around Georgetown as the dishes have a greater Perlis influence, said the owners.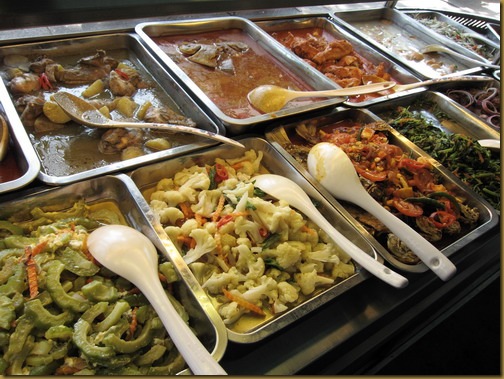 Tags: Anchovies, Bean Sprouts, Botol, Chicken Curry, Coconut Milk, Coffee Shop, Cucumber Slices, Daging, Delicious Food, Dipping Sauce, Food Court, Lembu, Mid Morning, Mouth Watering, Nasi Campur Melayu, New Addition, New Straits Times (Life & Times), Perlis, Pinang Delicious Food Court, Spicy Dishes, Ulam, White Rice, Wholesome Meal