Posts Tagged 'Popcorn Chicken'
* This article was published in the New Straits Times (Life & Times) on 17th November 2010.
Taiwan Foods is located in Double 33 Kopitiam, a corner shop lot along Jalan Aziz Ibrahim, with the Queensbay Mall just a stone's throw away. This place is perfect for a simple quick lunch. The menu is pretty straight forward, serving mostly rice dishes and noodle dishes with several types of braised meat.
Whenever we are near the area, we would drop by for a meal in this stall, which is on the same row with the Kampar Fish Jelly Restaurant.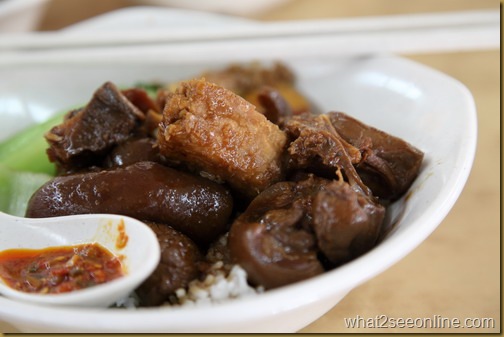 Tags: 3 Cups Phoenix Noodle, Aziz Ibrahim, Bowl Of Rice, Braised Pork Noodle, Chicken Meat, Chicken Rice, Chili Sauce, Deep Fried Chicken, Double 33 Kopitiam, Flavors, Hearty Dish, JokBal Yam Rice, Kampar Fish Jelly Restaurant, Kopitiam, Magic Ingredient, New Straits Times (Life & Times), New Straits Times (Life & Times), Noodle Dishes, Pepper Chili, Popcorn Chicken, Queensbay Mall, Queensbay Mall Penang, Quick Lunch, Rice Dishes, Rich Gravy, Rm3, Rm5, Side Dishes, Taiwan Foods, Thick Pieces