BY CK Lam
Officially opened on 30th October 2013, Four Points by Sheraton Penang is getting on with the Chinese New Year themed banquets at its location in Tanjung Tokong.
The hotel is offering Chinese New Year lunch and dinner menus from 30th January till 13th February 2014. The six course traditional set menu B priced at RM850.00+ per table for 10 persons comes with the Yee Sang dish and also a range of Asian and Chinese cuisine.
Attention is centered on the first dish of Yee Sang. The Prosperous Yee Sang Platter which symbolises abundance and prosperity comes with a choice of salmon or tuna, multi-coloured shredded vegetables, crackers, sauces and seasonings.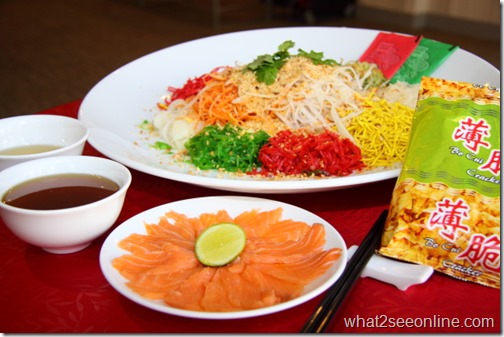 风生水起 (三文鱼生)
Tags: Black Vinegar, Braised Black Mushroom, Chinese, Chinese Banquet, Chinese Cuisine, Chinese New Year, Chinese New Year Buffet Dinner, Ck Lam, Crab Meat, Crunchy Crackers, Cuisine, Delicate Flesh, Dessert, Desserts, Dinner Menus, Dried Scallop, e Braised Superior Soup with Crab meat and Dry Scallop, Flavors, Food Review, Four Points By Sheraton, Four Points by Sheraton Penang, Hotel Penang, New Year Fried Rice, Penang Food Blog, Plum Sauce, Prawns, Prosperous Yee Sang Platter, Roasted Chicken, Savory Dish, Set Menu, Sitr, Soya Sauce, Spicy Heat, Steamed Sea Bass, Stir-fried Tiger Prawn, Tanjung Tokong, Tender Meat, Tiger Prawns, What2seeonline.Com, Yee Sang Dish