Posts Tagged 'Professional Wedding'
*This article was published in the New Straits Times (Life & Times) on 20th September 2010.
Wedding dinner held in hotels has seen a huge increase in popularity over recent years. Many venues are having fabulous packages done up by professional wedding planners and banquet team for the wedding dinner reception. Most of the packages displays many specialties catering to the various ethnic groups with everything tailored to each respective needs.
I got the pleasure of being invited to the wedding banquet food tasting session held in Parkroyal Hotel, Penang. The ambiance was simply stunning; the romantic setting of flowers and soft dim lights coupled with tables decorated with tablecloths, exquisite center piece and gold chair covers. Besides that, the floral arrangements and the bouquets of flowers was a sight to behold.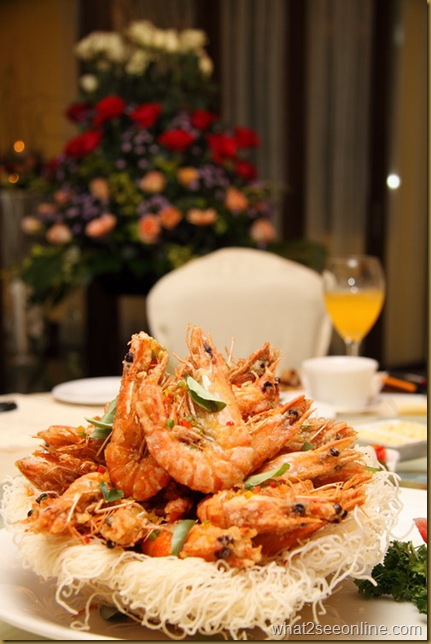 Fried Tiger Prawns served in a delightful basket!
There are several Chinese wedding banquet packages offered by Parkroyal Hotel to suit your needs – the Double Happiness, Dragon Phoenix and Golden Emperor, priced from RM788++ onwards per table, for a minimum booking of 20 tables up to a maximum of 38 tables. The wedding couple can select their favorite dishes from the wedding dinner package.
Tags: 20th September, Aromatic, Banquet Packages, Chee Seng, Chinese Chef, Chinese Wedding, Course Dinner, Dim Lights, Dinner Reception, Double Happiness, Flavors, Minimum Booking, New Straits Times (Life & Times), New Straits Times (Life & Times), Package Menu, Parkroyal Hotel Penang, Parkroyal Penang, Parkroyal Wedding, Penang Wedding, Professional Wedding, Traditional Chinese Wedding, Wedding, Wedding Banquet, Wedding Celebration, Wedding Couple, Wedding Dinner Package, Wedding Foods, Wedding Package, Wedding Planners