Posts Tagged 'Sausage Bun'
Snacks are available everywhere in Penang! Plentiful indeed, however one particular snack caught my eye while I was slurping away my bowl of Assam Laksa in the Air Itam market. This lady was selling deep fried buns, similar to Roti Babi but with different ingredients and she uses bun instead of bread!
She makes a stunning serving of these inexpensive priced fried buns. The white fluffy buns are battered, deep fried and stuffed with four kinds of savory fillings:  chicken curry, mixed turnip stuffing (similar to mangkuang char), sausage and luncheon meat…simple creations!
My favorite from this stall is the Deep Fried Chicken Curry Bun! Stuffed with pieces of chicken and potato, the filling is quite similar to curry puffs… however the deep fried bun makes it taste surprisingly good.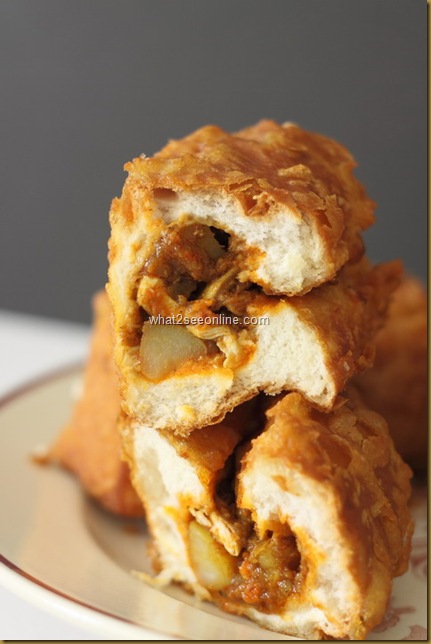 Chicken Curry Bun @ RM1.50
Tags: Air Itam, Air Itam Laksa, Air Itam Market, Array, Assam Laksa, Babi, Bun, Buns, Carrot, Chicken Curry, Crowd, Deep Fried Chicken, Delicious Luncheon, Fillings, Left Hand Side, Light Moment, Luncheon Meat, Mushroom, Penang, Penang Hawker Food, Pot, Roti Babi, Sausage, Sausage Bun, Sausages, Simple Creations, Slit, Snack, Snacks, Spicy Food, Tea Time, Variety