Posts Tagged 'Sautéed New Zealand Lamb Roll'
 * This article was published in the New Straits Times (Life & Times) on 22nd June 2011.
BY CK Lam
I have been eating my way around several Bangkok's restaurants and many street food stalls during my recent Bangkok trip. One tantalizing meal was at Patara Fine Thai Cuisine situated in Soi Thonglor 19, away from the bustling Sukhumvit 55.The dinner was a welcoming experience, featuring several well crafted traditional dishes with authentic taste in contemporary new arrangements.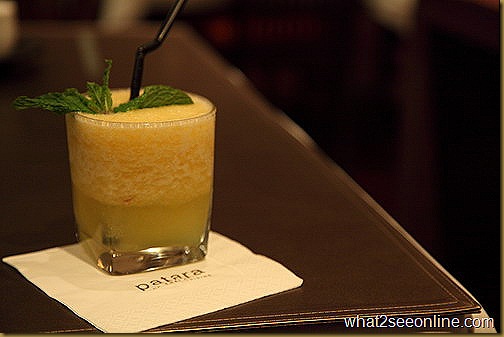 Patara cocktail
Tags: Authentic Taste, Bael tea, Bangkok Trip, Beef Shank, Chilled Braised Beef Shank Roll, Coconut Cream Soup, Coconut Milk, Crabmeat Shrimp, Creamy Texture, Delicious Dish, Ginger Tea, Herbs And Spices, Light Snacks, Lime Dressing, Lime Juice, New Straits Times (Life & Times), New Straits Times (Life & Times), Patara Fine Thai Cuisine, Sautéed New Zealand Lamb Roll, Seafood Coconut Cream Soup, Shrimp Roe, Softshell Crab, Soi Thonglor 19, Staples, Sukhumvit 55, Table Wares, Taro Chips, Thai Cuisine, Thonglor, Tiger Prawn, Traditional Dishes, Turmeric scented Crabmeat Yellow Curry