Continuing with my Malaysia International Gourmet Festival 2009 food journey, I had the privilege to observe first hand preparation of dishes at Lai Po Heen. This award-winning Chinese restaurant at Mandarin Oriental Kuala Lumpur serves classic Cantonese cuisines, specializing in fresh traditional delicacies and contemporary dim sum assortments.
Besides Pacifica Restaurant, Lai Po Heen is also one of the participating restaurants under the MIGF 2009 which is running throughout the entire month of October.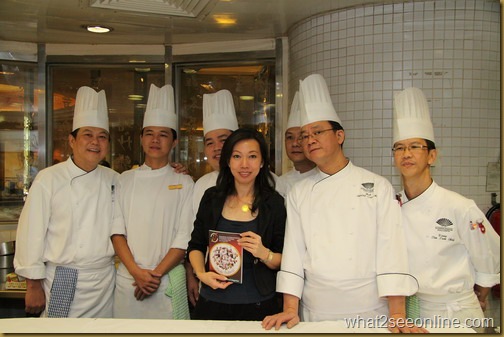 A photo with the Lai Po Heen culinary team
This restaurant led by Executive Chinese Chef Bong Jun Choi has seven private rooms with eloquent Oriental design. The walls are adorned with artifacts, artwork and with beautiful chandeliers hanging from the ceiling.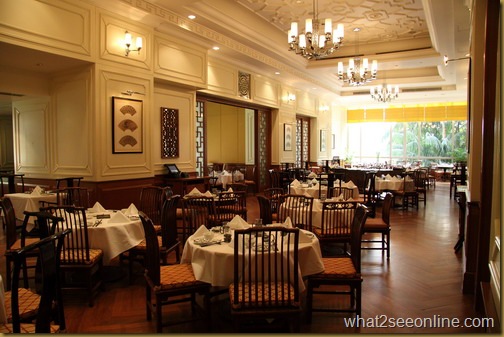 Main dining area of the restaurant opening to an outdoor view
Tags: Abalone Pau, Aromatic Duck, Array, Art Of Cooking, Cantonese Cuisine, Chef Bong Jun Choi, Chef Mok, Cherry Blossom, Chewy Texture, Chinese Chef, Chinese Parsley, Chinese Restaurant, Chopped Carrot, Cinnamon Stick, Cooking In The Kitchen, Culinary Team, Dim Sum, Festival Menu, Glass Panel, Glass Panels, Heen, International Gourmet, Lai Po Heen, Malaysia International, Mandarin Oriental Hotel, Mandarin Oriental Kuala Lumpur, Migf, MIGF 2009, Oriental Design, Pacifica, Peppercorn, Private Rooms, Sichuan, Spring Onion, Star Anise, Table Wares, Tablewares, Traditional Delicacies