Ever tasted the delicacy Stinky Tofu (Chao Tofu) from Taiwan?
It was an amazing steamboat dinner we had on the weekend with some friends at Tang Steamboat & BBQ Restaurant in Rangoon Road, Penang. It is a different kind of steamboat whether when it comes to choices of food and soup.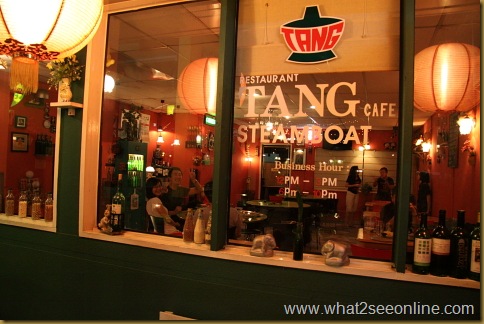 Customers can choose between the buffet and the ala carte meal. We took the 'All You Can Eat Buffet' at RM22 nett per person which includes a wide range of seafood, meat and side dishes for the steamboat and skewered sticks for the BBQ. Besides that, we got the chance tasting the famous Taiwanese specialty Chao Tofu.
Extra items besides the regular menu
Tags: 3pm, 6pm, Ala Carte, Amp, Appetisers, Appetizers, Array, Bbq Restaurant, Beef Lovers, Beef Slices, Business Hour, Chao, Chicken Fillets, Chili Dip, Chili Oil, Chili Padi, Choices, Coriander, Crab Ball, Crispy Fish, Delicacy, Dish, Egg, Fermentation Process, Fish Chips, Fish Glue, Fried Noodles, Golden Crab, Haagen Dazs Ice Cream, Hanwei, Herbal Soup, Homemade Recipes, Homemade Sauces, Homestyle, Hot Beverages, Hot Soup, Hurry, Hygiene, Ing, Kao, Main Attraction, Mouths, Nett, Onions, Penang, Penang Food, Penang Restaurant, Pot, Prawns, Rubbery Texture, Seafood Selections, Shapes, Side Dishes, Simple Life, Smiles, Snack, Soup Base, Soups, Sour Cabbage, Spoons, Steamboat, Steamboat Buffet, Steamboat Ingredients, Steamboat Restaurant, Stinky Tofu, Strands, Tang, Tofu, Tom Yam, Wantan