Posts Tagged 'Szechuan Soup'
* This article was published in the New Straits Times (Northern Streets) on 12th May 2011.
Lameizi Restaurant in Bayan Lepas is famed for its spicy Szechuan-soup (ma la) steamboat. The soup is filled with dried chili, with a layer of chili oil floating on top. Besides this signature soup, there are several other tasty soup bases to choose from — chicken, old duck, pork knuckle, tom yam and fish. The clear chicken soup offers a welcome throwback for those who prefer a more traditionally-flavoured steamboat stock. Each of the stock is boiled for hours for it to acquire its natural sweetness and flavour.
The steamboat at Lameizi is cooked on an infusion plate, which is faster than the conventional potable gas stove or charcoal pot. We choose to have a sectioned pot with the old duck soup on one side, and the sour vegetable fish soup on the other. The sour vegetable fish soup was rich and sourish and includes plenty of salted vegetables (kiam chye).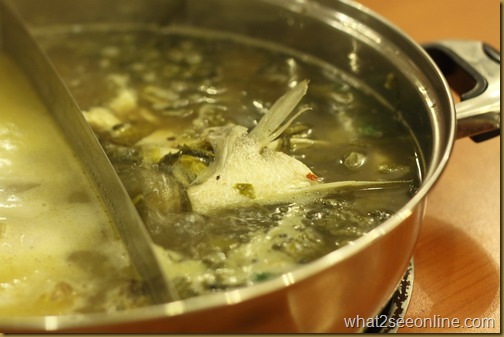 Combination pot of sour vegetable fish soup (RM28) and old duck soup (RM10.50)
Tags: Bean Curd, Beef Tripe, Button Mushroom, Chili Oil, Chopped Garlic, Duck Soup, Egg Mix, Fish Balls, Fish Soup, Jade Blossom Restaurant, Krystal Point, Lameizi Restaurant, Lameizi Restaurant Nagore Road, Meat Ingredients, Natural Sweetness, New Straits Times (Life & Times), New Straits Times (Life & Times), Raw Egg, Raw Meat, Red Chili, Soup Base, Steamboat Ingredients, Steamboat Restaurant, Szechuan Soup, Szechuan Style Steamboat, Tasty Soup, Thin Slices, Tom Yam