*This article was published in the New Straits Times (Life & Times) on 10th April 2010.

Recently I and hubby took a trip Down Under to visit my eldest son! It was a really exciting journey as it has been a while since we went there. We visited and dined in many places in Perth which I will be sharing with everyone in time to come.
On this particular day, we started out early in the morning, heading to the countryside of Swan Valley to experience the nature and surroundings. We took a stopover at The Margaret River Chocolate Company, Sandalford Wines, Caversham Wildlife Park and the AQWA.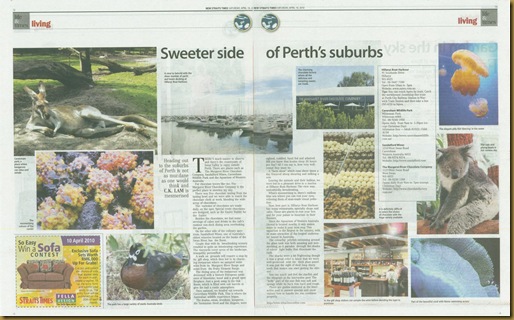 My eventful day in Perth was documented in the New Straits Times on Saturday, 10th of April!
Tags: AQWA, Array, Breathtaking Scenery, Caversham Wildlife Park, Charming Restaurant, Chocolate Company, Chocolate Lovers, Chocolatefactory, Christmas Day, Dingoes., Dining Area, Eldest Son, Emus, Great Gifts, Greek Lamb Pizza, Hillarys Boat Harbour, Little Caesars Pizzeria, Little Caesars Pizzeria in Mandaring, Mandaring, Margaret River, New Straits Times (Life & Times), New Straits Times (Life & Times), Oak Room, Oyster Kilpatrick, Restau, Sandalford Wines, Sorrento Quay, Stopover, Suburbs Of Perth, Sun Deck, Swan River, Swan Road, Swan Valley, Tasmanian Devil, Taste Bud, The Aquarium Of Western Australia, The Margaret River Chocolate Company, Theo Kalogeracos, Wildlife Park, Wombats