* This article was published in the New Straits Times (Northern Streets) on 19th November 2011
Sukhothai Beef Noodles House is located on the ever bustling Burmah Road, right in the heart of the Pulau Tikus neighborhood. The restaurant is situated along a row of shop houses between the Pulau Tikus police station and the popular Jones Road Loh Mee.
Since its opening last month, Sukhothai Beef Noodles House with a short menu has been attracting customers with its Thai beef noodles. The short menu includes three desserts and five other dishes, namely the Pad Thai, Fish Maw Soup, Thai Fried Rice, Tong Yam Fried Rice and also the Green Curry or Massaman Curry.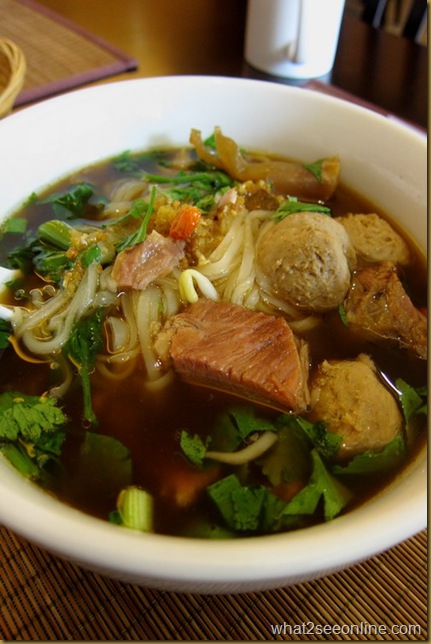 Tags: Banana Sago, Bean Sprouts, Beef Noodles, Burmah Road, Chili Flakes, Chopped Chives, Chopped Coriander, Creamy Coconut, Curry Paste, Fish Maw Soup, Food Condiments, Fried Bean Curd, Green Curry, Herbs And Spices, Instant Noodles, Mango Sticky Rice, Massaman Curry, New Straits Times (Life & Times), Pad Thai, Phad Thai, Pulau Tikus, Sukhothai Beef Noodles House, Sweet Rich Flavor, Tangy Lime, Thai Chili Sauce, Thai Fried Rice, Tong Yam Fried Rice