The Ocean Green Seafood Restaurant is a popular dining place located off Jalan Sultan Ahmad Shah in the city center. My family enjoyed dining at this restaurant which offers an open view of the beach and the sea. This surrounding beach area is a popular place for couples to have their wedding photos taken.
We had a good start with the popular dish of steamed tiger prawns. The prawns are very juicy and delicious, you could even savor it on its own! It is best dipped into their freshly homemade chili sauce which is a must-have for me!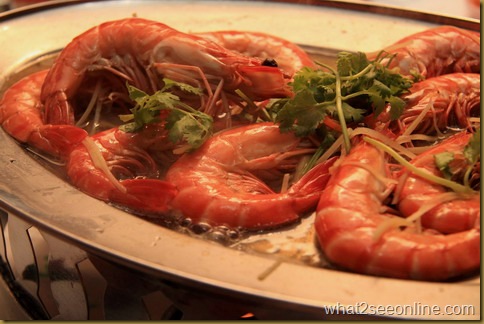 A great starter to a wonderful seafood meal!

Tags: Array, Baby Chicken, Chicken Meat, Chili Sauce, Chinese Buns, Clams, Coconut Milk, Cucumber And Onions, Deep Fried Baby Chicken, Delicious Seafood, Flavors, Good Dip, Homemade Chili, Jalan Sultan, Lady Fingers, Ocean Green Seafood Restaurant, Penang, Penang Restaurant, Prawn, Satay, Scallops, Seafood Meal, Seafood Restaurant, Skewers, Steam Curry Fish, Sultan Ahmad Shah, Tapioca, Tiger Prawns, Tong Yuen, Wedding Photos