Penang Food Court – Neww BT Food Court
***The restaurant has since closed down.
Neww BT Food Court was recently opened in Burma road, just next to the Wesley Methodist Church and stone's throw away from Giant hypermarket. Inside the food court, there many stalls selling varieties of hawker food like hokkien mee, char koay teow, chicken rice, beef noodles, popiah, curry mee, dim sum, western food, economy rice, rojak and many more. Some of them operate in the day while others at night. Parking spaces are aplenty and it is free. Although being new, the ambience and the cleanliness is better compared to other outlets.
There are so many stalls for us to explore and we started off with the Western Cuisine which operates only in the night.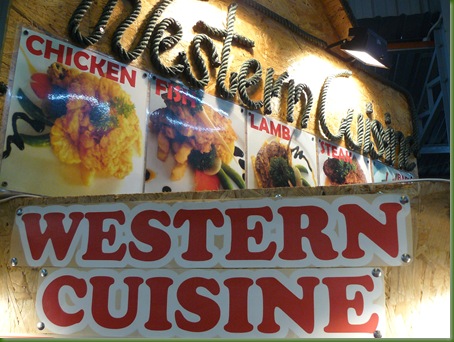 A plate of Grilled Black Pepper Chicken Chop – RM7 from the Western Cuisine stall. The chicken is perfectly grilled and laid on top of a bed of french fries. I am very impressed with the way they present the food even though it is in a food court.
I added in the sauce gradually as I do not fancy having the piece of chicken soaking in it. Observe the artistically decorated meal, really tastefully done. 😀
Macaroni carbonara – RM9 from the Italian Food stall was serve piping hot and is quite creamy with some prawns, crab stick and pieces of mushroom. My son loves Mac & Cheese, so this was his top pick for the night.
Steak with spaghetti – RM12.50 from the Western Cuisine stall. The sauce for the spaghetti is slightly spicy and the meat is indeed tender & tasty. Similarly with the chicken, it was well presented too.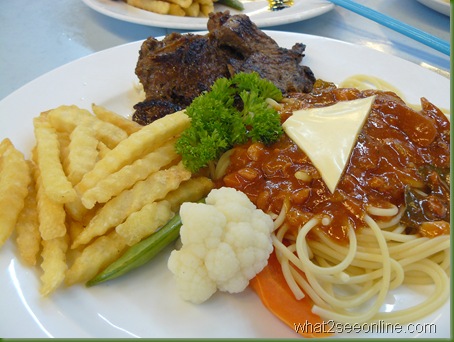 Amazingly, this food court also provides free Wifi services! Must be keeping up with the latest technology, there is even Astro programs on their plasmas! There are also a few on-going alcoholic promotions too.
Location map…