Penang Restaurant – Bistro @Hardwicke House
***The restaurant has since closed down.
This is the first time, I step inside Bistro @Hardwicke. This restaurant is located on the ground floor of Hardwicke House, the well maintained bungalow sitting in the corner of Jalan Pangkor and Jalan Sultan Ahmad Shah, Penang. I still remember visiting this place years ago with KS when it was still Mr Ho's Fine Foods, in which I tasted roast pork with apple sauce for the first time.
This Bistro is made up of two sections, the bar and the restaurant. The restaurant has a cozy ambiance and elegant decorations with a beautiful chandelier hanging down the dining hall.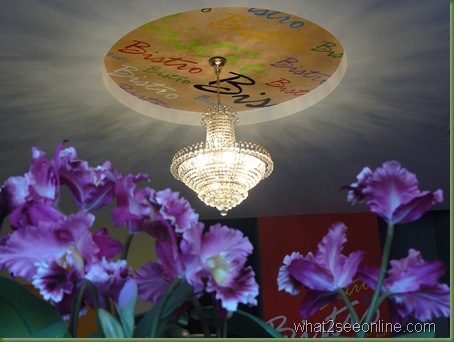 Besides ala carte, they do have on-going promotions and lunch set. I ordered a mixed green salad and the promotional Spaghetti Beef Bolognaise. The plate of spaghetti cost RM8.80 and surprisingly comes with generous amount of minced beef in rich tomato sauce, topped with herbs (more beef than spaghetti). It was served with a slice of toasted garlic bread.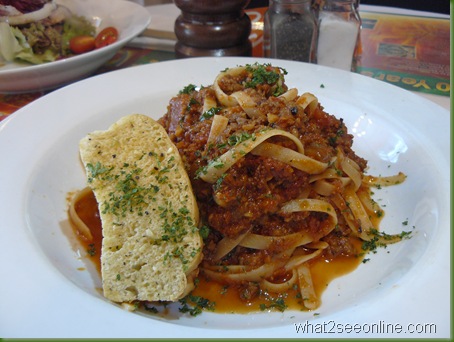 Hubby is the only one having the set lunch. This set cost RM16.80, which is inclusive of the mixed green salad, pasta and a cup of coffee. It was a rather big serving of pasta with very fresh mussels in basil cream sauce.
My son opted for the Onion Steak Sandwich @RM25.80. All the sandwiches in Hardwicke comes with green salad and french fries.  There were slices of grilled beef, onions, cheese, cucumber and fresh tomatoes, sandwiched between two pieces of focasia bread. The bread were indeed fresh.
This whole bungalow has a white exterior whereas the interior of the restaurant has a totally warm appearance of the red, yellow and white wall with a picture of the beautiful Miss Marilyn Monroe. There is even a sitting area for diners to chit-chat over a drink.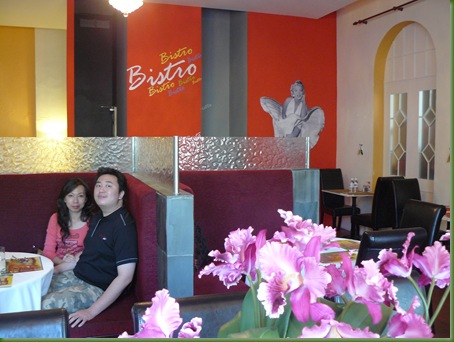 For dessert, we had the Chocolate Lava Cake @RM16.80 and freshly brewed coffee @RM6.00. The warm chocolate cake was served with my favorite Haagen Daaz vanilla ice cream. The hot warm chocolate cake went fantastically well with the cold ice cream. It was very addictive and we loved it.
Overall, a very satisfied meal. The combination of good food with reasonable prices and cozy ambiance makes this a perfect dining place. After trying out this light meal, we will be back soon to pamper ourselves with the steak and seafood. For more review on Bistro @Hardwicke, do check out this post presented by Lilian.
This is definitely a nice place for a celebration or a gathering. Lunch hour is at 11.30 am – 2.30pm and it resumes for dinner at 6.30pm – 10.30pm. The bar is open from 11.30am – 12.00 midnight.
Bistro @Hardwicke
67 Jalan Sultan Ahmad Shah
10500 Penang
Tel : 04 2264998
Fax: 04 2283393
Click here for the Map Location.
***Updates (16/2/2009) : This place is no longer serving the above cuisine but instead serving North & South Indian Cuisine under the same management. The restaurant is now known as KHANNA.