Azuma Japanese Restaurant @Queensbay Mall, Penang
Azuma is the latest Japanese Restaurant which opens its door on 27th December in Queensbay Mall, Penang. This restaurant is very spacious with many tables and customers can choose to have a window seat to enjoy the view of the Penang Bridge. A section of this restaurant is occupied with a sushi bar, surrounded with a conveyor belt filled with plenty plates of sushi.
Hubby and myself were introduced to a few of their 'must try' dishes by the supervisor.  One of them was the Shake Tataki Maki @RM15. Unlike the usual raw salmon maki which I had eaten at other places, this maki had the salmon lightly seared. This method brings a different taste to this roll. Delicious and highly recommended to try this for those that do not like eating raw salmon.
Enoki Beef Maki RM18. The small bunch of Enoki mushroom is wrapped in a slice of beef and pan fried with a flavourful sauce.
Sanma Shioyaki Set RM25. The grilled fish seasoned with salt is served in a set with white rice, Miso soup, salad and steamed egg.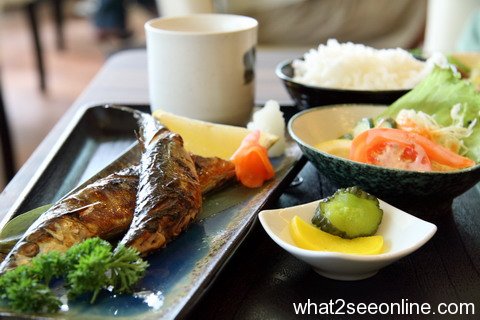 Eringi Butter Abalone RM12 is butter fry abalone mushroom. The stem is cut into thick pieces, fried with all the gravy infused in it. It has almost the similar texture to the abalone…it tasted great! Highly recommended to try this dish too.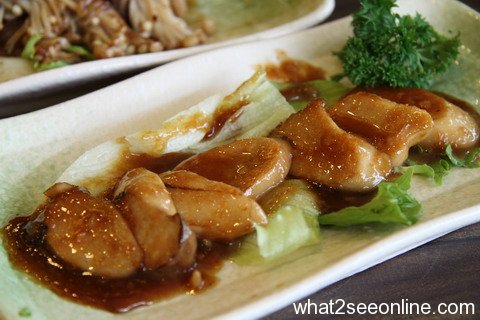 This green tea ice cream is on the house for all diners on that day.
Refillable hot or cold green tea @RM1 per person. Food at this restaurant are competitively priced and the service was very attentive although it was just the second day of their opening.
Azuma Japanese Restaurant
No. 100-2F87
Queensbay Mall
Persiaran Bayan Indah
11900 Bayan Lepas
Penang
Tel : 04 6413118
Business Hours : 11am – 10.30pm