Invited Review @Dragon-i Queensbay Mall, Penang
This time around a few food bloggers and myself were invited by well known and talented bakers, Big Boys Oven to do a review at the Shanghaineses Restaurant, Dragon-i at Queensbay Mall, Penang. This restaurant is famous for their many varieties of non-halal Shanghainese cuisine.
I was looking forward to do this review as I still remembered not too long ago I was indulging myself with family and friends on their Mid-Autumn Festiva Banquet set meal which all of us truly enjoyed.
As I was entering the premises, this poster featuring the Hairy Crab Set Menu promotion caught my eye.  I read an article in The Star that Dragon-i sources  these hairy and tiny delights directly from Tai Lake in Jiangsu Province, China themselves, thus  assured to be fresh.
What's more, the menu is prepared by Jiangsu-born head chef,  Man Fong Lam which I think will bring out the best taste in these crabs.  It would be fantastic to be able  to indulge in this seasonal crabs.
We were served with many dishes and this is the Chilled Chicken with Hua Diao Wine RM15.  Cold cuts of white chicken steamed with a strong Chinese wine and some Kei Jie (Boxthorn Berries).
Crunchy groundnuts in soy sauce. This is unlike the normal groundnuts served before your meal, these are actually part of the main meal! The nuts are strong in texture, very aromatic and pleasing to the tastebuds.
Jelly fish with Sesame Oil RM14. This was followed up with Jelly Fish with sesame oil… it is very nice and QQ.
Deep Fried Crispy Duck  RM32. The tender duck meat were wrapped together with freshly cut cucumber and spring onions together with a dash of sauce on the pancake skin. The waitress even  took the time to show us the proper steps in folding up the pancake.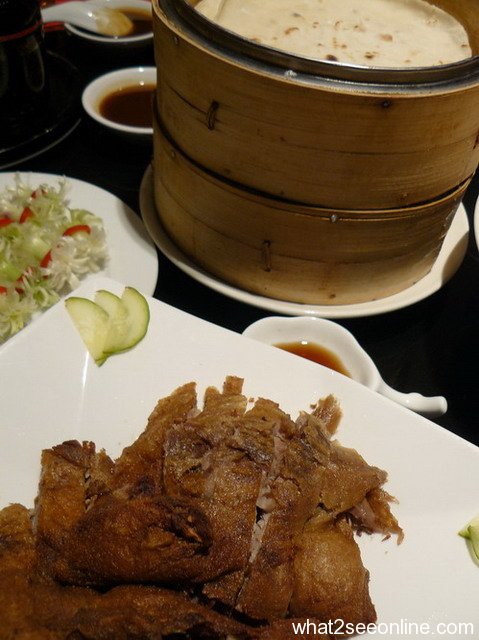 Shanghainese Smoked Fish RM15 has a slightly sweet sauce which I find to be a bit hard and dry, lacking the tender fish texture.
Fried La Mien with Black Pepper Chicken RM15. The noodle was fried perfectly moist and was at the right texture – not lumpy and soft. The ingredients of chicken, carrots, capsicum, button mushroom and cabbage plus the black pepper does pep up the taste of the noodles.
Shanghainese Braised Pork Belly with Beancurd Leaves together with and Black &  White Sesame Fried Buns RM23. The meat was stewed till tender and has the essence of the gravy infused in it. Perfect accompliment to the Fried Buns.
Braised Mushroom with Mixed Vegetables RM18. The slightly thicken gravy has a lot of shredded dried scallops.
Shanghainese Steamed Meat Dumpling RM9. I have always love this Steamed Meat Dumpling which is their signature dish. It is served steaming hot on a bed of Chinese cabbage. The hot juicy dumplings are best eaten dip in black vinegar with strips of ginger. Their signature dish never disappoint every time.
Sauteed Shrimp in Sichuan Style RM32 with a slightly spicy, sweet and sour sauce. The combination of the flavours with the fresh prawns makes this a tasty dish.
The dinner was rounded off with two desserts.  The Souffle Egg White Ball with Red Bean Paste and  Banana RM10 and the refreshing glass of  Mixed Fruit Cream RM10. The taste of the Souffle is similar to our Chinese Ham Chim Pang but with a softer texture and has red bean and banana filling. Its sprinkled lightly with icing sugar. On the other hand, the Mango dessert was cooling and very soothing with its refreshing fruits.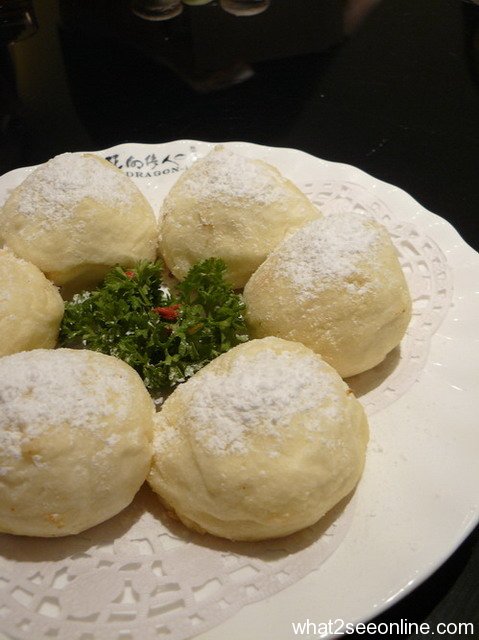 Besides the dessert, all of us had the opportunity of tasting the  Macarons baked by Big Boys Oven. They are light and puffy with variation fillings of hazelnut and almond.
In between dinner, I took the chance to snap some photos with Sid & Sunny. Really fantastic duo, its been a pleasure meeting up with the both of them. Word of thanks to Allie for taking these two photos for me.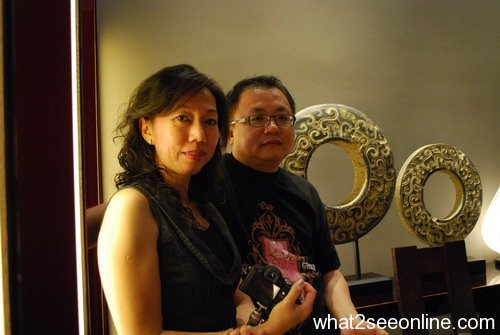 Overall, the dishes were very flavorful and the services rendered was fine. We really enjoyed the company of each other and the delicious meal. We sat there chit chating way passed closing time. As we left the restaurant, the lights were already dimmed but the watchful eyes of the imposing  terracotta warriors gave us a sense of assurance.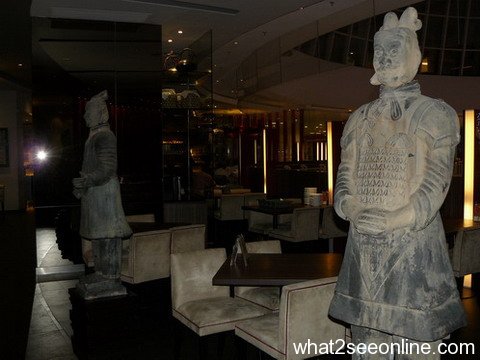 Dragon-i Restaurant
Lot 77, 78 & 79 & 81
2nd Floor
Queensbay Mall
Penang
Tel : 04 646 6888
Website : http://dragon-i.com.my/