Pitt Street Koay Teow Th'ng moving to new location
Chinese New Year is just around the corner and many of us will be celebrating this special event with our loved ones. As in all festival, there are bound to be plenty of food and Chinese New Year is no exception. I am sure all of us will be having a fun time eating and tasting variety of cuisine.
I like to take this opportunity to wish all the readers of What2see, GONG XI FA CAI and thank you all for your valuable support. May you be blessed with happiness, success and good health in this coming Year of the Ox!
******
Just came to learn that the Pitt Street Koay Teow Th'ng is moving their location this Chinese New Year. As most of us know, this Koay Teow Th'ng is very popular among most Penangites. This particular stall located in the corner of Pitt (Jalan Masjid Kapitan Keling) and Armenian Street is run by the mother and son team. Their version of Koay Teow Th'ng comes with homemade fish ball (made from eel), minced pork, duck meat and served garnished with fried garlic oil and pork lard. Its specially made soy sauce with chili padi gives an extra flavor when eaten with this noodle.
Old location
A few weeks ago, I was informed that they will be shifting out to a new location soon; however the location was not known at that time. It was only yesterday night that I came to know of the exact place after receiving a call from Sherry. They have moved just a few doors down, you won't miss it with the banners and signboard clearly noticeable from afar.  Renovations are still going on, and the official launching day for the new shop is on the 3rd day of Chinese New Year (28th of January 2009) with a Lion Dance display.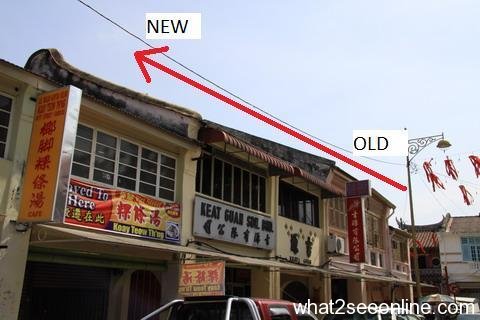 New location
Owners of both the Pitt Street & Burma Road stalls
Observed that the new coffee shop is very clean and new. With the new coat of paint, it makes the place very pleasant to enjoy your steaming hot bowl of Koay Teow Th'ng. Prices in the new shop remains the same. Basic bowls cost RM2.50 while for additional eel balls, it will be RM3.50. Any more ingredients on top of that will be charged accordingly. Take note that it will be close on Sunday and Monday. Click here for the Map Location.

Take note that their other branch in Burma Road (Hai Onn Coffeeshop) is running as usual.
Pitt Street Koay Teow Th'ng
139 Pitt Street (Jalan Masjid Kapitan Keling)
Penang
Tel : 017 4793208 (Sherry)
My blogging mates has even reviewed about the process of making the fishballs, feel free to click at : Gourmet Garden and Foodpoi.
Updated on 1/1/2010 : This Koay Teow Th'ng stall has since closed down and shifted out of this area totally and settled into a new coffee shop on 93 Carnavon Street. The shop is diagonally opposite the Star Cafe which is famous for its roast meat (roast duck and roast meat).