Invited Review – Louis Cafe @Argyll Road, Penang
Update:  Louis Cafe has closed
Its makan time again and this time around, the food tasting session was at Louis Cafe located in Argyll Road. This restaurant which was opened on December last year is facing directly opposite Mingood Hotel.
There was a wide selection of dishes and for starters, we had the Caesar Salad with Smoked Salmon- RM18 and the Organic Garden Greens – RM15.
Another delightful salad – Scallop Salad. A plate of fresh garden greens with Seared Sea Scallop topped with delicious Apple Salsa – RM20. The sourish taste is very appetizing.
The range of soup are more on the creamy side, very well blended and served with buns & butter. I personally like the broccoli soup.
Top, from clock-wise: Italian wild mushroom soup – RM10, Cream of tomato – RM9, Fresh Pumpkin Soup – RM9, Cream of broccoli – RM9.
Below are some of the dishes that I particularly enjoyed during this food tasting session.
Fish Gordon Bleu – RM25 is a piece of deep fried red snapper fillet stuffed with Ham and Cheese Crumbed. The fish goes well with the accompanied Lime Butter Sauce.
Beef tenderloin with peppercorn sauce – RM38
Grilled Lamb Chop with black pepper sauce – RM22. Indeed a very succulent dish with the gravy.
The Vegetarian Cutlet – RM15.90 is an option for those who prefer a vegetarian dish.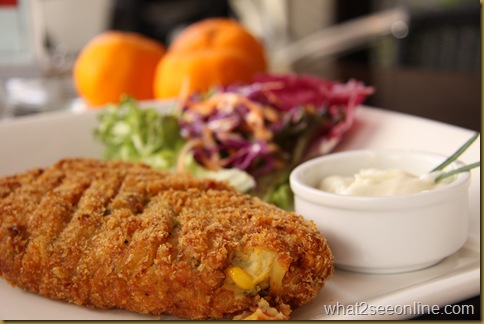 As for the pasta, we had the Fettuccine Cabonara and the Pasta Arrabiata, both at RM16. I personally like the Pasta Arrabiata as it has more flavour with the spicy tomato pulp sauce and goes well with the chili, bacon and assorted wild mushroom.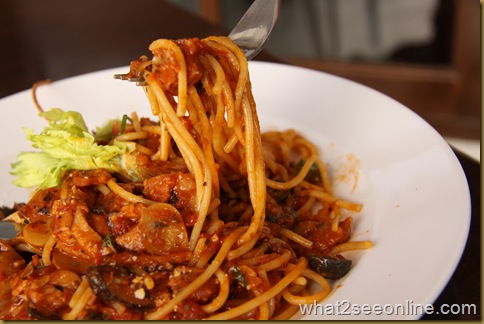 Chicken tortilla  – RM15.90. Delightfully melts in your mouth and best taken when its hot out of the oven. Recommended to try this out.
Grilled Lamb Chop with brown mushroom sauce – RM22…grilled until perfection. Almost similar to the black pepper counterpart, but the mushrooms gives another dimension to the dish.
Besides the Western Cuisines, you can also find some selection of Asian dishes in this Wifi Enabled restaurant. This is the 'Chinese' dessert of White Fungus with Gingko – RM5. Do check out their special set lunch too.
Group photo of the food bloggers…courtesy of Penangtuapui.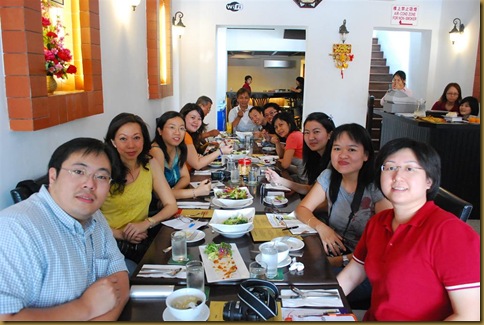 There are two dining area to accommodate the dinners, one on the ground floor as well as another in the upper floor. Many thanks to Madam Teoh for inviting all of us to her restaurant for the food tasting and also to Lingzie for arranging this outing.
Louis Cafe
161-C Argyll Road
10500 Georgetown
Penang
Tel : 04 2287729
Business Hours : 11am – 11pm
Click here for the Map Location.
GPS Coordinates : N05 25'18.4"   E100 19'49.7"