Invited Review – Restaurant Karaikudi
If you are looking for the definite taste of Chettinad and South Indian cuisine along with Northern Indian delights, then Karaikudi Restaurant is the place to be. Located in Market Street which is in the heart of George Town's Little India, this restaurant is well known for its flavorful cuisines.
We had the privilege to savor cuisines with different flavors, seasonings and fragrance in this invited review at this restaurant, thanks to the arrangement by Penang Tua Pui.
We were served with the thick and refreshing Mango Lassi @RM4 to go along with our meal. The first dish was the Vegetable Soup @RM3. This Chettinad style vegetable soup is yellowish in colour, as they incorporate dhal in the preparation of this soup.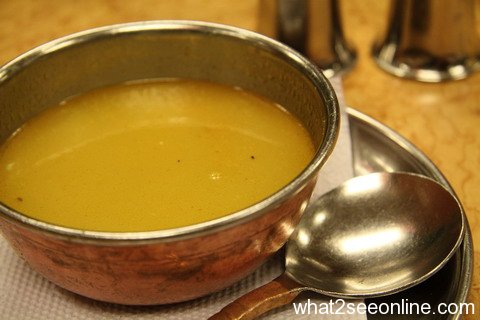 Squid Fry @RM8 – Squid dipped in a spicy batter and deep fried. The squid has the right texture and not too spicy. It's best taken with some droplets of lime juice.
Bitter Gourd Chips @RM6 – Karaikudi gives a marvelous twist to this vegetable. Thin rings of bitter gourd marinated with spices is deep fried in oil together with dried chilies. This crispy appetizer has a bitter flavor but it leaves a pleasant after taste. For those who love bitter gourd, this is a must have item.
Chicken Cutlet @RM6 – These are deep fried cutlets made from boneless ground chicken marinated with egg and bread crumbs; while on the inside there are onions, curry leaves, coriander leaves and green chilies Presented in lovely heart shapes, they make a good snack.
Chicken Briyani @RM9.50 – Steaming bowl of hot Basmathi rice served with the tender piece of chicken, topped with a hard boiled egg.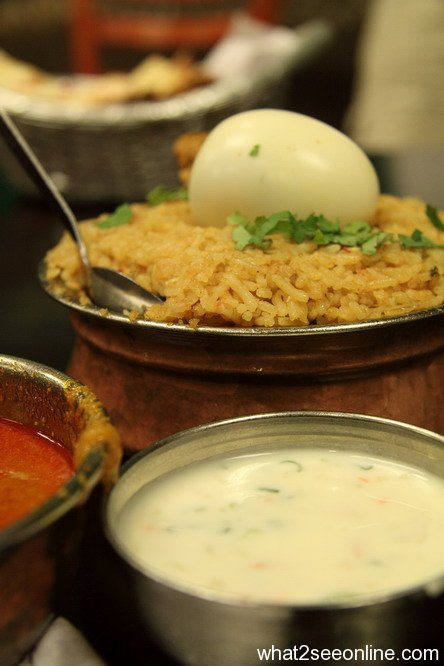 We were also served with many other accompliments…
A shot of all the dishes in a row
Here are some them, namely the Lady Finger Pepper Fry @RM7 which was slices of ladies finger deep fried, then sauteed with pounded black pepper. The other was the Chettinad Potato Masala @RM6 with cubes of potato sauteed with their own special masala.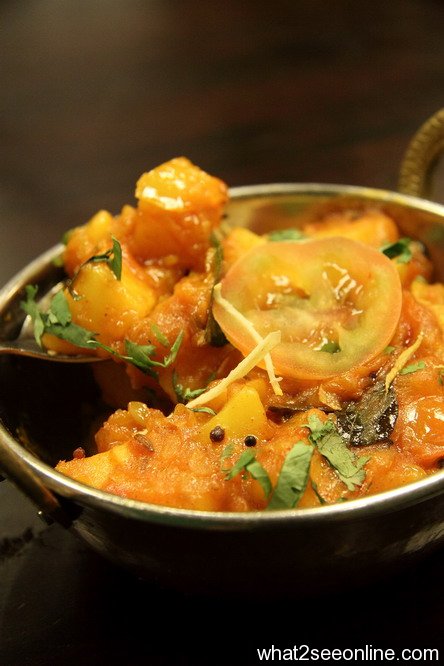 Egg Podimass @RM4 is basically scrambled egg cooked with onion, salt and pepper. Mutton Chukka Varuval @RM18 is a dish of tender pieces of mutton sauteed with plentiful of Chettinad spices. The spices added a fiery zing to this dish…absoutely delicious. It was cooked dried to perfection and is my favorite dish of the night.
Kadai Vegetable @RM9 – A bowl of assorted vegetable with a combination of button mushroom, cauliflower and beans cooked in a pungent and rich gravy.
Chicken Kothu Paratha @RM9 – The pieces of shredded chicken and the roti canai  pieces was fried with egg. It is a different texture indeed; kind of chewy and served with condiments of chutney and others.
Kashmiri Naan @RM6 – This sweet naan with dried fruits and sweet cherry is best eaten when it's hot from the oven. Many people do take it with the curries but I personally prefer to take it as a sweet item. Besides the naan, we were also served with their Chettinad Special Dosai @RM4.
Chettinad Filter Coffee @RM2.80 – Fresh coffee bean powder steamed with boiled water to prepare the coffee, and then subsequently added with fresh milk. I personally find this cup of coffee a bit light for my taste.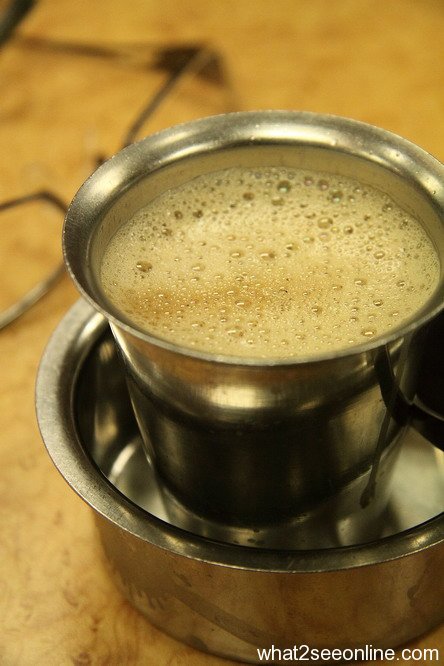 The surprising Sizzling Brownie was the last entree for the night. A piece of freshly baked chocolate brownie with a scoop of vanilla ice-cream topped with chocolate sauce and cashew nuts served on a hot sizzling plate.
This dessert was so delicious, a surprisingly change from the usual common dessert. The verdict from everyone present that day? Literally, we could not muster any words to describe this! It was just "Ohh.. and Ahhs" from everyone that gave the thumbs-up for this hot-and-cold tantalizing desert.
There is the standard Set Lunch meal consisting of soup, plain Briyani, Indian bread, and a scoop of Ice-Cream. The only difference is in the side dish with a vegetarian for the Vegetarian Set Lunch @RM13 and the Chicken/Mutton for the Non-Vegetarian Set Lunch @RM16. Do try out the food in Karaikudi which is freshly prepared daily. Click here for the Map Location.
Restaurant Karaikudi
20 Market Street
10200 Penang
Tel : 04 2631345 & 04 2631359
Website : www.karaikudi.com.my
Business Hours : 11am – 11pm (daily except Deepavali)
Lunch : 11am – 4pm
Snacks : 4pm – 7pm
Dinner : 7pm – 11pm
GPS Coordinates : N05 24.981   E100 20.408