Penang Food – Pork Innards Porridge at Chowrasta Market
The Chowrasta Market is lined with plenty of food stalls throughout the morning business hours. If you are a huge fan of chu chap jook which is considered a bizarre food to some people but a delicacy to others, do check out the stall located at the entrance of Campbell Street.
Warm and comforting bowl of porridge
Garnished with plenty of spring onions
According to the stall owner, the porridge is cooked for hours till the starch breaks down to a smooth texture. A bowl of porridge would normally include different types of pig innards such as intestines, spleen, liver, coagulated blood, with added Char Siew and the crispy fried intestines. All this is painstakingly prepared by the owner.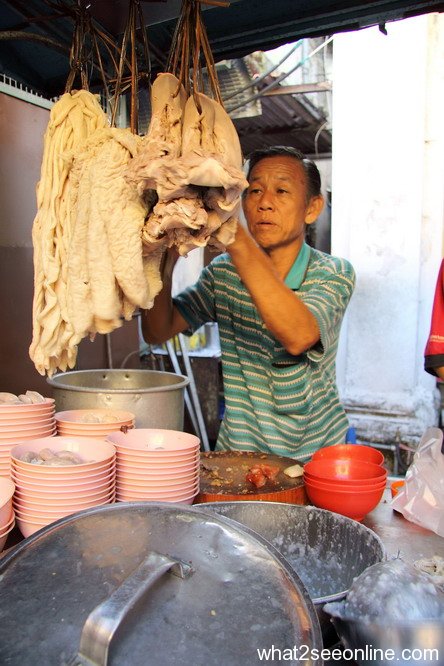 The intestine, fried or fresh is one of the main ingredients of this porridge. Most customers would go for the crunchy and addictive deep-fried intestines (zhar cheong). Some even go the extent of ordering an extra serving of this popular item. When soaked in the porridge, the fried intestines get softer and this adds more flavour to the porridge itself…just heavenly.
Business is brisk and the place is amazingly packed with porridge lovers. As sitting places are very limited, I had my seat in front of the stall itself.
Indeed a good breakfast. An ordinary serving of porridge would cost you somewhere between RM2.20 to RM2.50 which is very reasonable. I like chu chap jook, do you like it too or are you squeamish about it?
Click here for the Map Location. It's on the left hand side of Kuala Kangsar Road if you are walking in from Campbell Street (no vehicles are allow in this road during market hours).
GPS Coordinates : N05 25.093   E100 19.965