Penang Hawker Food – Lorbak @Kheng Pin
Another Penang food that most people enjoyed eating is the Penang Lorbak. It is an appetizer, a side dish of fried mixed stuff of fish fritters, fried beancurd, spring rolls, fried octopus, preserved century eggs and the lorbak roll.
The lorbak roll itself consists of chunky bites of marinated five spiced pork wrapped with bean curd skin (fu-pei). All these are eaten with a dipping of chili sauce and thick starchy lor sauce with beaten egg swirls.
This delightful snack can be found in most coffee shop, food court and roadside hawker stall. One of my favourite places for good variety of Penang Lorbak is at Kheng Pin Kafe located in the junction of Penang Road and Sri Bahari Road.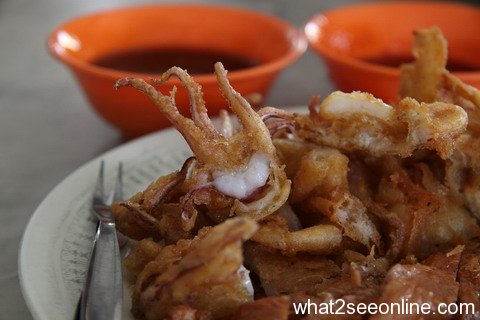 Everyone of us has a favourite item among the selections and mine is the prawn fritters (hae jie). The crispy piece of fritters which has shelled shrimps in it is just simply delicious. What would be yours?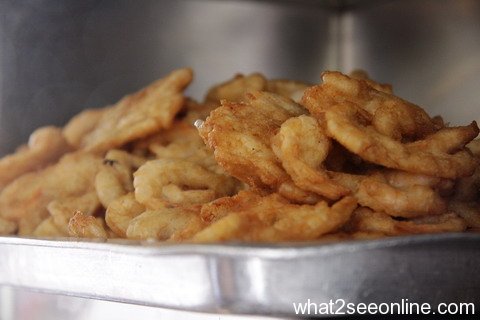 The lorbak has an equally balance amount of five spice powder which is not so over powering. They were well flavoured and fried just right, not too dry.
Stuffing of shelled shrimps in tofu

Delicacy…century egg and the slices of preserve ginger!

Do drop in to this coffee shop to try out the Lorbak or Ngoh Hiong (as my Singaporean friends call it). Click here for the Map Location. Other place for lorbak is the hawker stall in Johor Road and at Ho Ping coffee shop in Penang Road/Jalan Kampung Malabar.
Kafe Kheng Pin
80 Penang Road
Penang
Business Hour : 7am – 3pm
Closed on Monday
GPS Coordinates : N05 25.239   E100 19.970