Penang Road Cendol, Iceball & Ice Kacang
Penang Teochew Cendol or commonly known as Ang Tau Cendol is a highly popular Teochew-style dessert. This Penang hawker food is an all-time favorite among the locals and the tourist. It can be found in a stall located on Lebuh Keng Kwee, off Penang Road.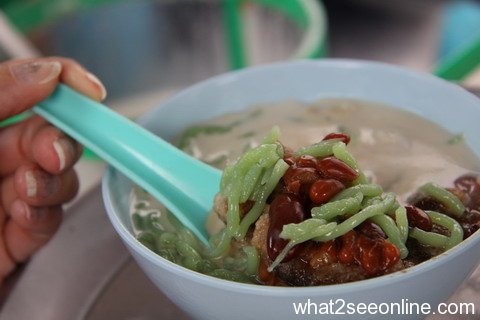 This delicious cooling sweet dessert cost RM1.70 and comes with ingredients of shaved ice, red beans, cendol, coconut milk and gula Melaka (brown sugar).
Sweetened red bean
Cendol in coconut milk
Most customers would just stand around the stall eating the cendol whereas some would opt to sit in the coffee shop nearby.

Look out for the right-hand side cendol stall
Besides Cendol, you can make a request for their colourful iceball. It is seldom seen nowadays and was once a very favourable item and loved by many children. It does bring back old memories when I remembered buying this type of iceball (at only RM0.10 cents) after school hours. It was fun then holding the cold iceball with my bare hands.

Iceball now comes in a plastic bag
The lady will accommodate the order provide she is not too busy. It does take some skill to make the iceball. She has to make sure the shaved ice are pack tightly together to ensure that the ball does not fall apart. It can be quite cold on the hands when doing so. Hop on over to Cokeworld Citizen to watch a video clip of the making process.
One such iceball doused with sarsi and red sugar syrup cost RM0.80. I am happy to have found the iceball, and definitely bringing my son to try it. Click here for the Map Location.
Penang Teochew Cendul
Lebuh Keng Kwee
Off Penang Road
Penang
Open daily from : 11am – 7pm
GPS Coordinates : N05 2501.9   E100 1950.1