Getaway Weekend @ Prince Hotel & Residence, Kuala Lumpur
Eating puffer fish for the first time!
On a weekend trip to Kuala Lumpur, my family stayed two nights at the Prince Hotel & Residence Kuala Lumpur in Jalan Conlay. I chose this hotel as I was impressed by it when I attended the Dim Sum review event at their Chinese Restaurant, Tai Zi Heen in April.
Prince Residence was named The Best Serviced Apartment in Kuala Lumpur by Lifestyle & Travel Magazine – Asia Pacific Readers' Choice Awards 2008. Their service apartments offers short and long-term guests a range of accommodation from the one-bedroom apartment, two-bedroom apartment, two plus one-bedroom family apartment and a penthouse apartment. More details of the apartments and rooms can be seen here.
On the arrival, hubby settles the check-in and we got ourselves staying in the Premier Executive Room at  RM580++. The room offers sheer luxury comfort, modern business amenities and is inclusive of daily buffet breakfast at the Euccino, afternoon tea and evening cocktails at the Premier Executive Lounge.
Our room located on the 18th floor was very spacious and has a great view of the city. We were surprise when told that all the snacks in the mini-bar and the beverages in the fridge were complimentary! All except the liquor of course!
Room with elegant and comfortable furnishing
Separate shower and bath
There is a great working space with broadband internet facilities for me and hubby to check up on our work and emails on the go!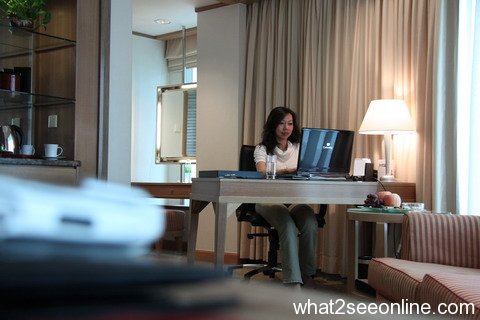 The hotel is also located directly opposite Pavilion Kuala Lumpur – the latest premier shopping mall and also within walking distance to KLCC Shopping Mall, Bintang Walk and Bukit Bintang shopping malls. Thus, a holiday trip to KL would not be complete without some time for some shopping, right?
After having the buffet breakfast in Eccucino, we took a five minutes' walk to the Pavilion using the overhead bridge. We ended up at The Loaf as hubby wanted to see the bread shop of Dr M after hearing so much of it. We look a light bite and some photos.
Buffet breakfast in Eccucino
Spoilt for choices in The Loaf
After the shopping, my son and I took some time to workout in the fitness center. Located on the same floor is the Kids Club, workout studio, tropical garden, the swimming pool with jacuzzi, and the Balinese design Mandara Spa.
After a good workout in the gym, me and my son went to join hubby in the swimming pool. I ended up taking a dip in the jacuzzi leaving my two men continue swimming in the pool.
Like many hotels, there is also a pool bar beside the pool
After a refreshing workout, we went to the Premier Executive Lounge to enjoy complimentary afternoon tea.  The lounge is a nice and relaxing place for a cup of freshly brewed coffee and juices while catching on with the latest news.
Premier Executive Lounge – relaxing environment

Sandwiches, cakes and fruits
On the second night my son suggested that we had dinner at the Enju Japanese Restaurant. Not feeling of moving around and getting stuck in the notorious KL traffic, we happily took up his suggestion to dine there. It is located beside the Tai Zi Heen Restaurant. All the food is prepared in the open kitchen.
Interior of Enju
We were quite indecisive choosing from the menu that has a list of authentic and fusion cuisines. As it was our first visit, we ended up having some dishes recommended by Chef Thomas Lim. The deep fried Curry Mashed Potato was the first dish.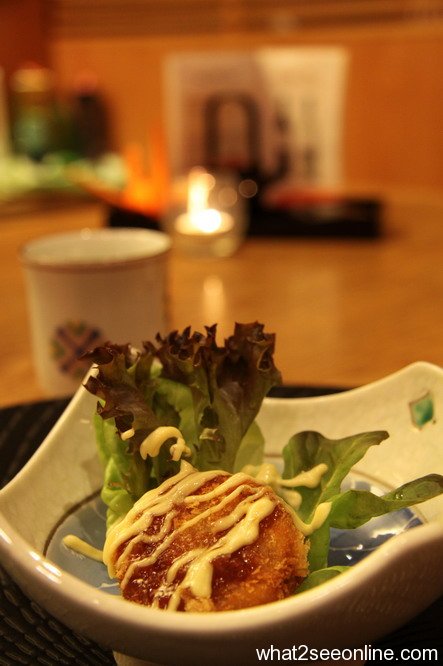 Japanese Curry Mashed Potato
Chef Thomas recommended us the appetizer, Fugu Mirin Boshi (Grilled Puffer Fish). I was indeed very skeptical when eating this dish, especially with the myth & stories surrounding this fish! It is said if not prepared properly; the fish could instantly kill any human as it contains a poison. GULP. Luckily Chef Thomas assured us that it was safe for consumption.
Before grilling, the puffer fish was marinated with sweet vinegar and Japanese rice wine. It was slightly sweet and a fantastic dish to try out. Tasted a bit like our local floss meat (bah kua). In my whole life up to now, this is the first time I had this!
Fugu Mirin Boshi (Grilled Puffer Fish) @RM28
Kaiser Kami Nabi (Assorted seafood and veg in a paper pot) @RM48
Tempura batter roll with a combination of salmon & crunchy mountain yam
This highly recommended dish was indeed a new sensation to our taste buds! It contains pieces of papaya, seafood and mushroom filling baked with cheese, which surprisingly turns out to be pretty good.
Papaya Bakingyaki (Baked Papaya with seafood and cheese) @RM34
And the best thing of all this? Being Premier Executive Room guests, we are entitled to 30% discount on the food at all their restaurants!
We really enjoyed staying here. I would recommend to whoever is heading to KL to consider staying over at the Prince. It's really worth a visit as it is conveniently located near to so many shopping complexes, food heavens and also business centers. I definitely love to stay in this hotel again…!
Staying in the Prince, I get treated like a Queen!
Prince Hotel & Residence Kuala Lumpur
No 4 Jalan Conlay
50450 Kuala Lumpur
Tel : 03 21708888
GPS Coordinates : N3 09.022   E101 42.854
Website : http://www.princehotelkl.com