Penang Food – Sky Cafe & Star Cafe, Roast Meat Cuisine
Heavenly Chinese Roast Meat can be found at Sky and Star in Penang.
One of my favorite stall would be the one located on the ground floor of Sky Hotel on Chulia Street which is known for its high number of budget hotels and small cafes. You could easily spot  this blue-ish building with the stall 'WAI KEE' right in the front entrance which is a few doors down from Ecco Cafe.
Here you will find delicious assorted roast meat. Ordering comes in individual servings or in individual plate with an assortment of your favourite choice of meat. The good stuff that I usually order is the Siew Yoke, Siew Cheong and Char Siew. The Siew Yoke has a very crispy skin and also the right amount of salty flavor.

Who can resist the succulent Siew Yoke!

Superbly honey sweetened Siew Cheong
You should not miss out the Char Siew as they are not 'reddish hot' in colour, similar to those sold in most places around town.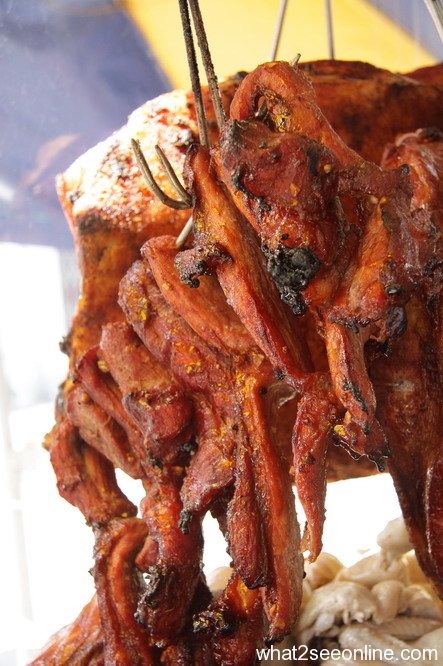 Beautiful cut of Siew Yoke, Char Siew & Bak Cheet Gai

Personally, I am very particular when it comes to choosing the meat. My choice of Char Siew would always be the pun fei sau (half fats and half thin) and best if it is slightly burnt.
Beautifully marbled Char Siew
This meaty lunch definitely needs some greens and Wai Kee has its signature dish of blanched Yau Choy Sum for their customers. They do serve the sai yeong choy (watercress) soup, however it comes at a price as it comes with boiled meat as well. Do try and go early as the crowd gets larger in the peak hours.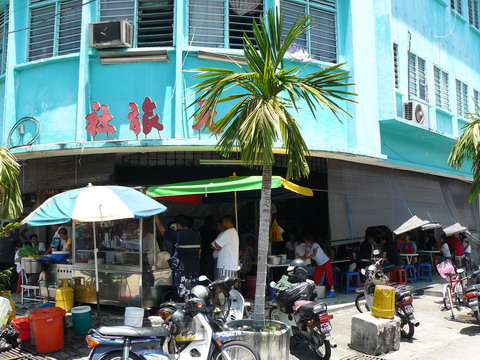 Sky Cafe
348 Chulia Street
Penang
Business Hour : 11.30am – 2.30pm
GPS Coordinates : N5 2507.6   E100 2006.7
******
Done with the "sky", lets take a look at the Star! 😀 The Star Cafe along Carnavon Street houses a stall that sells delicious and flavourful roast meat. The speciality from this stall is the Siew Ngap (roast duck), and IMHO the texture of the duck meat is very soft and tender.
The chili sauce and the thick gravy that compliment the duck was very tasty too. On top of the roast duck, there is also Roast Chicken and Siew Yok! Unfortunately this place do not sell Siew Cheong as the taukeh has stop doing a few years back due to work load. For those who were lucky to have tasted it would definitely know that their Siew Cheong was superbly delicious.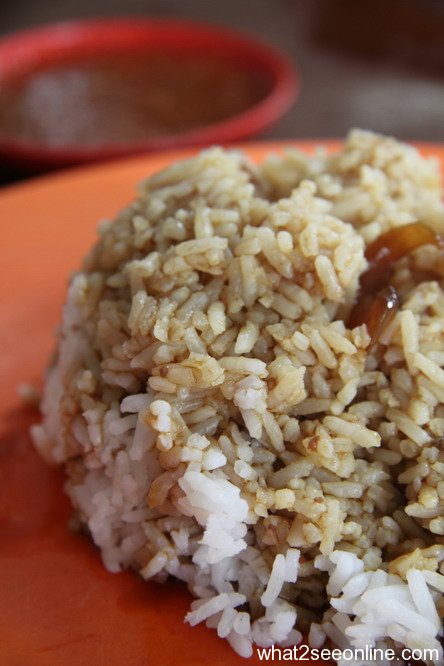 All their serving of rice comes with the warm and flavorful light gravy.
Free soup are available at this place. At times you get to drink lou wong kua (old cucumber) soup and on other days, you get the choy korn (dried vegetable) soup.
The prices here are considered slightly more reasonable with a bigger portion as compared to those in Sky. If you like to have it whole, a roast duck cost around RM 38.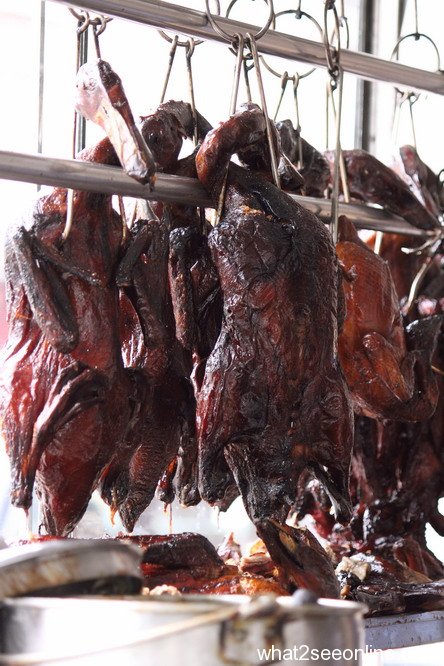 Jit Seng Roast Duck
Star Cafe
246 Carnovan Street/ Jalan Cheong Fatt Tze
Penang
Business Hour : 12.00pm – 3pm
GPS Coordinates: N 5 24.865   E 100 20.015
Closed : Public Holidays
***
I definitely recommend the above two places to those who wants to grab some excellent roast meat (coffee shop style). Their prices are reasonable and the portions are worth the price, while the quality of roast meats are definitely one of the best in Penang. Of course there are others who would prefer to dine in comfort, and you could perhaps head over to Canton-i.