Moh Teng Pheow Nyonya Kuih, Penang, Malaysia
*** January 2015 – The place has since added on a  little cosy corner 'canteen'  for you to sit down and enjoy the kuih and home cooked food. The place is now known as Moh Teng Pheow Nyonya Koay & Canteen.
Nyonya Kuih can be found in most of the wet market around Georgetown. They come in many different texture, shapes and multi colored. They are mostly steamed with some deep fried and baked.
I got to enjoy some freshly made kuih at Kuih Nyonya Moh Teng Pheow located in Jalan Mesjid, Off Chulia Street. The owner, Mr Mook and his family has been making the Nyonya Kuihs and supplying them to kuih peddlers for many years in Penang but nowadays they just cater to the hotels and directly walk-in customers.
This is a colorful platter of diamond shaped pieces of Nyonya Kuih and they are really very delicious.
They were preparing several kuihs on that day and it was indeed a privilege for me to see the making process. Most of the item is steamed but this Kuih Bengka is baked. The liquid mixture is stirred continuously by an electric mixer under a fire. Once the batter is smooth and thickens, it is poured into a metal tin lined with banana leaves for baking. The finished product has a surrounding burnt crust.
Kuih Talam has two layers, green and white. The bottom green layer is made of green pea flour with fresh pandan juice. The topping is a white layer of rice flour and fresh santan (coconut milk). The combination of the sweet green layer and the white coconut layer is just perfect…sweetish and slightly salty.
Kuih Serimuka is also a two layered kuih but unlike the Kuih Talam, it has a bottom layer of steamed glutinous rice. The top green layer with a custard texture is made with pandan juice.
The Kuih Lapis makes up of alternating white and pink layers. It's quite a long procedure and time consuming with each layer adding on after the previous layer is cooked. This Kuih Lapis has nine layers which makes it a lovable item among children as they like to eat it by peeling of layer by layer. I am sure some of you would have done that before.
The final top layer (pic on the right) has a richer orange color
Kuih Lapis also known as nine layer rice cake

Another favorite of mine is the Pulut Tekan (glutinous blue rice). The steamed glutinous rice is added with coconut milk with part of it colored blue (traditionally by the juice from the bunga telang). The rice is then poured into a wooden box laid with banana leaves which is then left pressed down (tekan) with a heavy stone.
When cooled the whole block of Pulut Tekan is cut into diamond shaped pieces. It is yummyliciously good with a thick spread of their homemade Kaya (coconut jam with pandan leaves). The kaya spread is for sale too!
Banana leaves gives an aromatic aroma to the kuih
Huat Kuih is also known as Fatt Koh in Cantonese. This steamed rice cake is very fluffy and has the aroma of 'tuak' (alcohol beverage from the sap of coconut palm).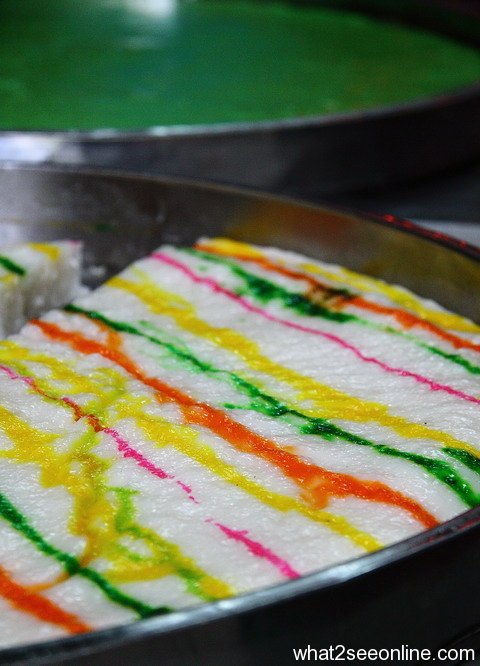 Curry Puff needs a long period of time to prepare as it needs to go through much procedure to get the layers of crust. The family members manually rolled the dough, with adding in the potato filling and folding in the sides. Click here for more photos.
Many times folding of the dough is needed in order to get the 'ring' look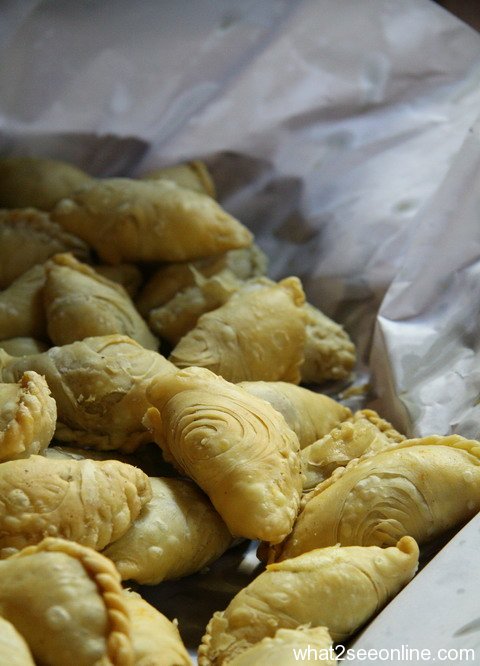 Deep fried curry puffs with layers of crispy skin and the 'ring' look

This is another popular deep-fried item, the Poh Piah Chee (spring roll) with filling of turnip. I did not get to see the preparation as it was done earlier. Penangites love to have their Poh Piah Chee dip into hot fish base assam laksa soup.
Do drop by this place for your supply of sweet and savory Nyonya Kuih and snacks. The outlet caters for all occasions and functions. Click here for the Map Location. The shop is located behind Sky Cafe, famous for their roast meat.
Kuih Nyonya Moh Teng Pheow
Jalan Mesjid (Off Chulia Street)
Penang
Tel : 04 2615832  & 012 4152677
Closed on Monday
* This article was also published in the New Straits Times on 9th April 2010.