Penang Food – Klang Bak Kut Teh
Looking back at the post, it seems like it has been a while since I blogged about Bak Kut Teh in Penang. I was recommended to try out a Bak Kut Teh stall in the folds of Jalan Terengganu recently. It was indeed a different style from the Penang local version. It is the Klang Bak Kut Teh!
We made our way there in the evening for dinner. It is just a small place, occupying the front of a house, with a few tables on the side walk as well. The menu is displayed hanging opposite the stall.
As with many other places, the food can be served on individual bowl as well as in claypot. We find that this stall sells slightly thicker type of soup and has less hints of herbs which is not too overpowering. In this claypot, we chose to have many different cuts of meat – fatty, lean, spare ribs, black mushroom and pig stomach. All the ingredients were cooked till tender.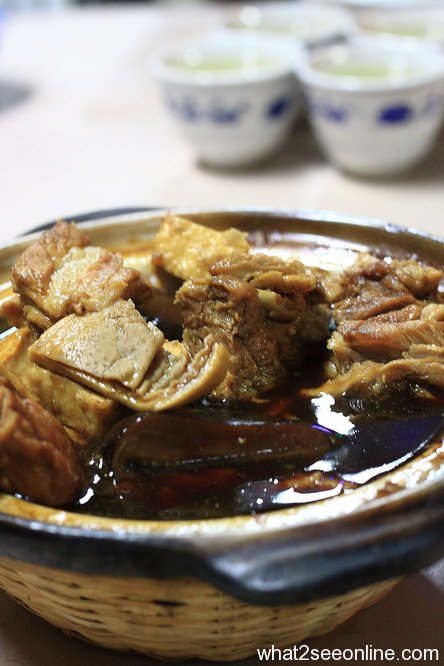 Many types of meat & spare parts came piping hot in a claypot
Besides the claypot, we also ordered some accompanying side dishes as well. Hubby personally chose some  beancurd (taufu), while son opted for some pig intestines and some fried Fu Chuk (bean curd sheet).
Beancurd with five spice powder, very delicious indeed
Pig intestines was very well stewed
Bean curd sheet is quite standard in most Bak Kut Teh stall
This Bak Kut Teh comes with choices of yam rice and plain rice.  The yam rice was quite ordinary in taste although there were generous pieces of yam. The commonly found blanched vegetable with oyster sauce was another add-on for us.
Yam rice was tasty with those chopped garlic & red chili slices coupled with black sauce
The lettuce came with generous serving of flossed meat
One of the specialties of this Klang Bak Kut Teh is the succulent stewed Pig Trotter in dark soy sauce. The owner recommended us this signature dish, and it did not disappoint us. The meat was very tender as it is stewed for hours. The sauce that he uses as a base to stew the trotter was very flavorful, concentrated and a bit sticky. Very good to go with white rice, making this dish a delight to the taste buds!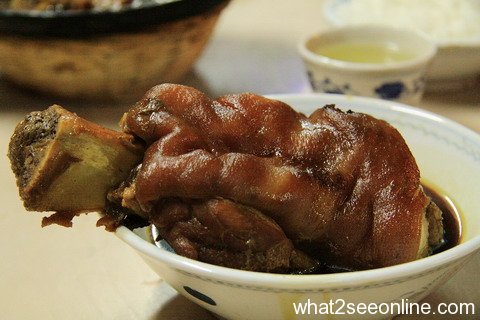 Equally balanced with fats and lean meat as well, a must-try over here!
Last but not least, was the appetizing side dish concocted by the taukeh. It turned out to be an excellent order as it was very appetizing! The taufu is deep fried until crispy, then mixed with strips of carrot, deep fried beehoon, ikan bilis and onion, and subsequently tossed with their specialty sauce.
Very appetizing dish with sweet and sour taste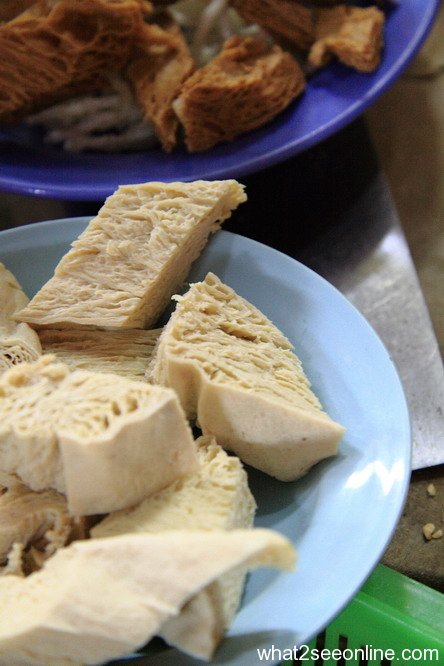 This is how the taufu look like before it was deep fried!
For something different, do try out this Klang Bak Kut Teh which is brought over to Penang. This eatery is run by Cheah and his family.  Click here for the Map Location.
Klang Bak Kut Teh
52 Jalan Trengganu
10460 Pulau Pinang
Tel : 016 4547706
Business Hour : 6.30pm – 11.30pm
GPS Coordinates : N05 2431.1   E 100 1833.2
Closed on Thursday