Penang Food – Savour the King of Fruits, Durian!
Taking a break from all the food for once, and indulging in some of the best fruits Penang has to offer!
It is always a good time to visit Penang and especially now when the great durian season is on. Just imagine going on a makan trip in Penang to feast on the King of Fruits, Durian! Our family just loves the thorny spikes durian with its strong pungent aromatic flesh. There are numerous stalls in town. Recently I took my aunt and uncle who came for a visit from Singapore to try out the durian at one of the popular stall, Penang Ah Teik Durian Stall. This stall is located right beside the Sun Yat Sen building in Lorong Susu/Mccalister Road.
A giant seed with creamy thick flesh
Their spread of fruits not only include the Durian, there are also choices of mangosteen, longkong (a variation of the Langsat) and the popular durian kuih. Conveniently, there are few tables set up beside the area with some shade for their customers to savour the durian on the spot!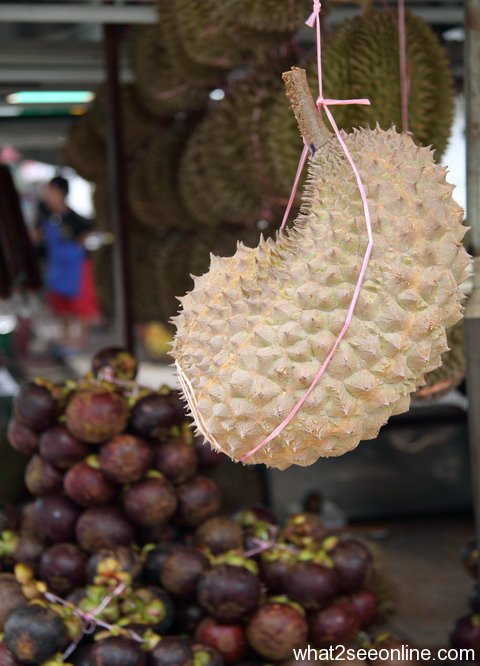 This durian comes kidney shaped, unique indeed!

Next on the list was the soft and spiky looking rambutan with the translucent white flesh which is very sweet and refreshing. The variety that we had was the 'yar bak'. Malaysian's are really blessed with plenty of fruits all year round, and this one is no different.
Rambutan with yar bak (crunchy flesh) that is easily removed from the seed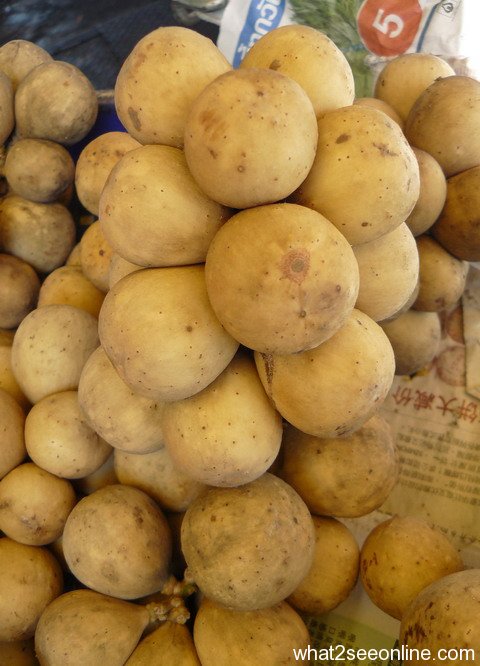 Longkong – a fruit almost similar to the Duku Langsat
Legend has it that mangosteens have a cooling effect which would counter balance the heatiness of the Durian. Therefore, it is recommended to have some mangosteen together with the durian. This round purplish fruit is usually sold in a bunch. The fruit is sweet and refreshing, which may come to a surprise to many who never tried before.
Mangosteens – just the right fruit to go with Durians
Getting durians in Ah Teik stall is so convenient. Just let them know your preference and the durian experts will choose the type of durians for you. You get to see them smelling and tapping the durians and even sliding their knife into the fruit. Furthermore, any spoilt durians will be replaced by the storekeeper automatically, while his expertise in picking the right one for you will have you finger-licking in no time!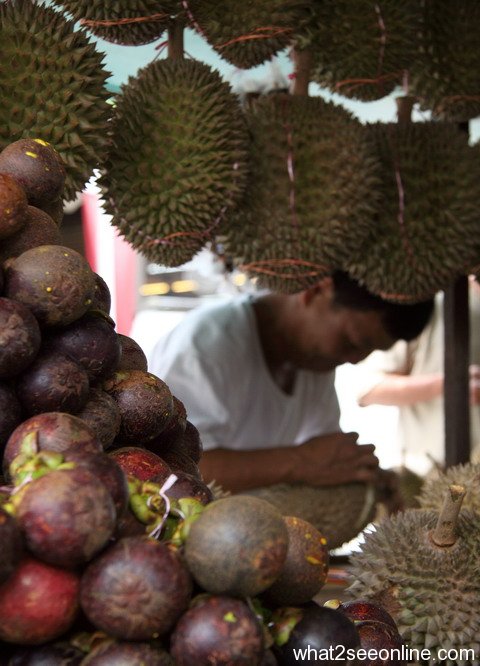 The eight of us had around seven durians, some mangosteen, longkong and it cost us approximately RM130. Ah Teik even supplied a washing area for us after our feast, together with complementary mineral water for our thirsty throats as well.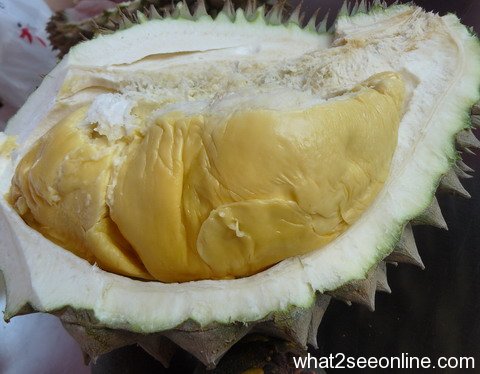 Delectable, sweet flavor – aromatic flesh best enjoyed then and there
Creamy texture – you won't go wrong with the Durian
There are times when you can't afford the time to sit around at the stall, do not worry! You can just inform them that you would like to take it back home, and with a few swift moves, your durian is ready for 'ta pau'! The fruit is removed from the spiky shell and pack into clean boxes. It is much more convenient then cutting and handling the durian ourselves in our own kitchen floor.
Price list of many varieties of durians available at Ah Teik Stall – I never knew there was SO MANY! 🙂
Penang Ah Teik Durian Stall
Lorong Susu
10400 Penang
Tel : 012 4383881 & 016 4158579
GPS Coordinates : N 05 24.961   E 100 19.465
Click here for the Map Location