Old Favorite Chinese Snacks @ Leong Chee Kee Biscuit off Cintra Street
Leong Chee Kee biscuits located on the ground floor corner of the People's Court off Cintra street was known for its traditional Cantonese wedding biscuits. The business set up by Leong Chee Kee has since been taken over by his son, Leong How Keng.
On my visit to this biscuit shop, I had the opportunity to watch the owner make the Chinese snacks of Coconut Tarts, Khay Nui Ko/Gai Dan Go (egg cakes) and Hup Toh Soe (Chinese walnut cookie)…perfect teatime treats.
Yummy coconut tarts fresh right out of the oven! Fantastic!
The coconut tart is the specialty of Leong Chee Kee. The recipe was created by the founder. The tart is just awesome, with a layered dough base with a filling of moist sugared grated coconut. It's topped off with a swirl effect top crust and brushed with egg yolk. It's baked in the oven with the exchanging of the position for an even colour. These tarts stay fresh for five days. Since no preservatives are added, it's best to keep the tarts in the refrigerator to maintain the freshness and crunchiness.
They only make 300 pieces per day, so it's best to to drop in at 9am to make the bookings personally as they do not accept telephone bookings.
Baking the tarts isn't as easy as I think it would be. Here is the step-by-step procedure.
The tarts filled with moist sugared grated coconut
Cutting the swirl effect dough to be laid on top of the tart
The tarts topped off with the top crust and brushed with egg yolk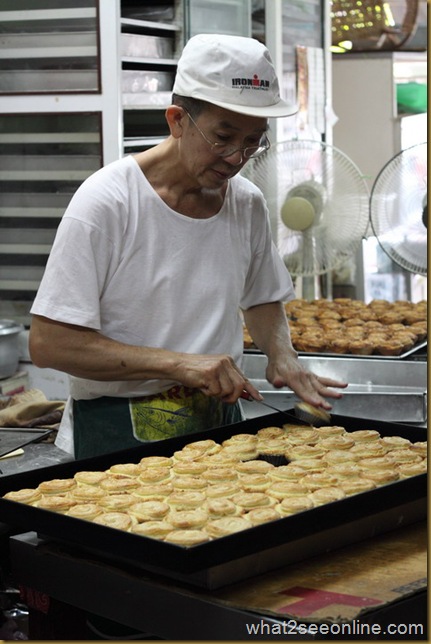 Moving the position of the tarts for an even colour by Leong
Grated texture of the coconut, really packing the punch in these tarts