Bak Kut Teh @ Song River, Gurney Drive
In Penang, Gurney Drive is a food heaven for food lovers. The stretch of road houses many seafood restaurants, cafes, fine dining restaurants and hawker stalls, with some opening in the day and also in the night. One popular spot is Song River Cafe, home to some of the tasty cuisines Penang has to offer!
Regular customers will know that this restaurant is managed by the same owner of Home Style Restaurant in Tanjung Bungah.
Chinese Tea for starters, anybody?
With a group of visiting friends from Singapore, we dropped by the eatery for its unique bak kut teh. The white colored meat-based broth just doesn't taste as the regular dark colored version. Instead the broth has a lighter herbal flavor.
Besides this unique bak kut teh, there are also many other favorite seafood dishes and noodles.
The "WHITE" Bah Kut Teh in its entire splendor served in a claypot

Fried prawn noodles are among its signature dishes as well
We also indulged in the Steamed Fish (Ang Sai) topped with Hor Fun, a simply good delicious choice. The superior soy sauce was very fragrant, and the smoothness of the hor fun was just a joy for the mouth.
Topped with spring onions and fried garlic, Awesome!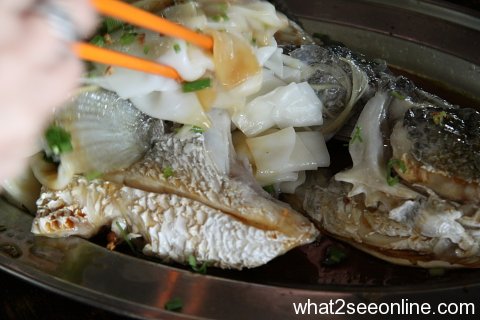 Another dish we enjoyed was the oh mee. To those who aren't familiar with it, this dish is simply stir-fried yellow noodles (similar to Hokkien Char) with oysters!
With the oh mee soaking up the aromatic gravy with oysters flavors, every mouthful packed a punch. The dish comes with spicy sambal.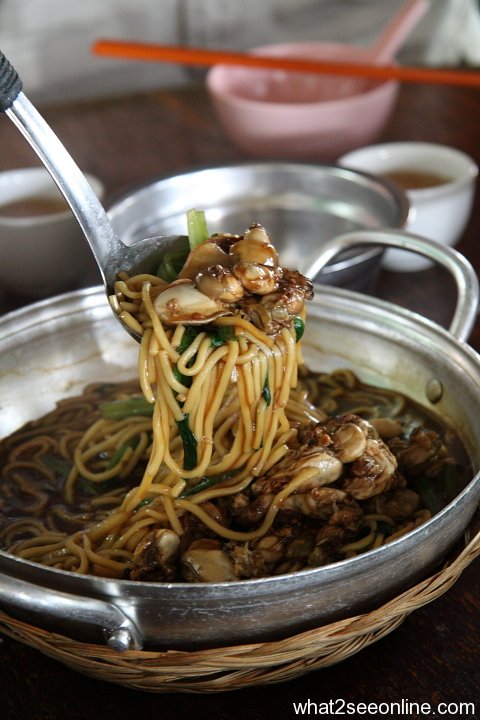 Many people flock to this eatery which is open from early morning till lunch hour. At sundown, the eatery offers a selection of hawker food. You will find goodies such as BBQ chicken wings, grilled fish and otak-otak. Click here for the Map Location.
P.S. While you are here, you can also check out the nearby Public Cafe which serves mighty tasty   *seafood porridge and noodle*.
Song River Cafe
65 Persiaran Gurney
Penang
Business Hour : Breakfast till Lunch