Penang Assam Laksa @ Air Itam Market
The strong aroma of the herbs, the sourness of the soup and the quality of our Penang prawn paste makes our Penang hawker food, the Assam Laksa so different from the others. Although there are many places around town selling this noodle, it is the stall located beside the Ayer Itam Market that I frequently patronized.
A dish that tantalizes the taste buds
For those who have not tried this dish, it is definitely worth doing so. A bowl of sourish sweet Assam Laksa has smooth Lai Fen (noodle) with topped on ingredients of bunga kantan (ginger flower bud), onion, cucumber, lettuce, red chili, mint leaves and chili padi.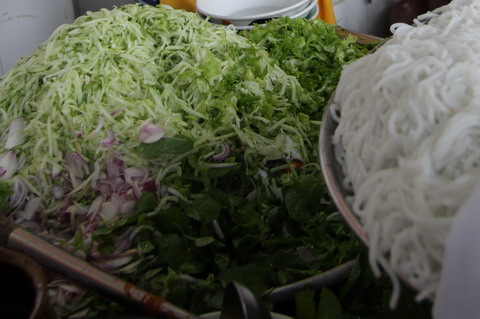 Condiment of Heh Koh (prawn paste)
A pot of boiling fish stock with plenty of fish flakes and distinctive flavor from the assam (tamarind), lemongrass, galangal (lengkuas) and chili.
The soup has a thicker texture compared to many others

To make sure the noodle is serve piping hot; the owner pours the soup into the bowl of ingredients and out back into the pot several times before drizzled with Heh Koh (prawn paste).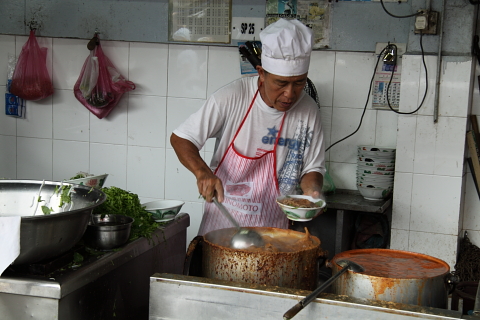 It is indeed mouth watering just looking at the bowl of Assam Laksa with the thick rice noodles in the fish broth brimming with flavors.
The stall is right beside the small market place but it can accommodate groups of visitors and tourist arriving in bus loads visiting the nearby Kek Lok Si Temple. It's very difficult to say whether this is the best Assam Laksa or being over rated by some, but with the amount of customers day in and day out, I guess its popularity is there.
The stall is open from lunch hour right up to around 8pm. Click here for the Map Location.
Assam Laksa Air Itam Market
Pasar Road (Beside the Air Itam Market)
11500 Air Itam
Penang