Penang Food – Sin Geylang Claypot Frog Porridge
We had some nourishing porridge for dinner last night at Sin Geylang. The shop on Macalister Road (opposite Red Rock Hotel) specializes in claypot porridge, serve with dishes for lunch and dinner. The texture of the porridge was smooth, quite thick and topped with chopped spring onions with a dash of oil.
Steaming hot pot of plain porridge
We ordered a number of dishes to go along with the porridge. The interesting dish that we had was a plate of steam frog (tin gai). It was steamed to tenderness with kei chee (Chinese wolfberries), ginger and chili padi. A spoonful of the gravy with all the subtle taste of the ingredients goes very well with the porridge. All of us loved the gravy.
Two meaty frog cost RM20
A dish that most of us liked was the Fried Egg with Chai Por (preserved radish) @RM5. The Chai Por was fried till fragrant and its salty and sour taste combined well with the egg.
We had a fried Black Promphet @RM24. The deep fried crispy fish was drizzle with soy sauce with a hint of ginger…indeed a delicious flavor for the plain porridge.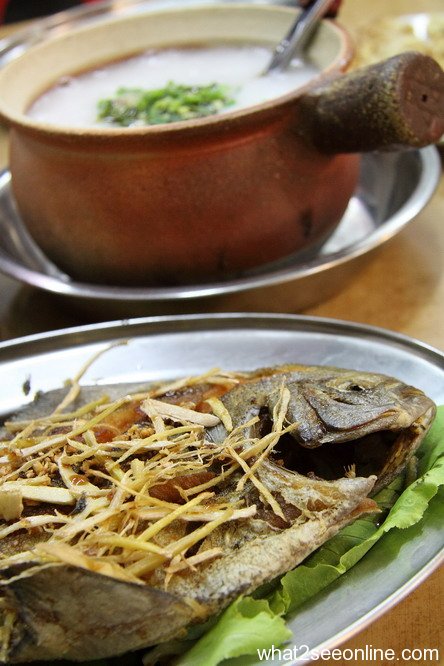 In Penang there are quite a number of places that serves porridge and this is one of the places where we do enjoyed the porridge and home styled dishes the way we would do at home. You can also order rice to go with the dishes besides the porridge. We paid RM56 for the meal with glasses of Loh Hon Koh drinks @RM1.50 each. Click here for the Map Location.
Sin Geylang Kedai Makanan Dan Minuman
87 Macalister Road
10400 Penang
Tel : 016 4211206
Business Hour : 12pm – 3pm and 6pm – 11pm
Closed on Wednesday
**Updated  August 2010** – This eatery has since shifted to 22 Krian Road, on the same side as 8-row.