Bidor Delicacy – Biscuits & Pastries @ Pun Chun Restaurant
During the journey back to Penang we had a Bidor stopover at the well known Pun Chun Restaurant located right in the middle of the town. It has been in existence for many great years and is a popular place for travellers to stop for a meal. The restaurant serves delicious chu char dishes, ark tui mee and wan tan mee. Pun Chun is also famous for their all time favorite Chicken Biscuits (Kai Chai Pang) and Sat Kei Ma (caramalize egg biscuit).
This restaurant has been selling traditional Chinese biscuits for many years. Trays filled with so many varieties of cakes, pastries and biscuits really caught my eye. All of them looked tempting and I can't help myself ordering a few to try out.
We get to sample the Lou Por Pang (wife biscuit), Hung Ngan Pang (almond biscuit), Kai Dan Gou (egg sponge cake) and Ham Tan Soh (lotus paste with salted egg) with cups of kopi-o. kau. I really enjoyed this simple traditional Chinese pastry as we don't get to eat so often.
Hung Ngan Pang also known as Almond Biscuit
Ham Tan Shou with filling of lotus seed paste and salted egg
Kai Dan Gou with the very strong egg flavour

Loh Por Pang also known as Wife Biscuit has a crispy outer layer. It comes with fillings of winter melon plus a bits of orange peel. This biscuit is one of the better ones that I have eaten so far.
Loh Por Pang also known as Wife Biscuit
Pun Chun Restaurant
38 – 40 Jalan Besar
35500 Bidor
Perak
Tel : 05 4341554
*************************************
From Pun Chun Restaurant on the right,  we cross directly over to the town's market (look out for the blue arrow on the left) to have some noodles. We visited a food stall which is among the only few stalls that was still open in the late noon. It sells variety of Yong Tau Foo and Chee Cheong Fun. The food is quite similar to the ones sold in Kampar and Ipoh.
The owner put a twist to this steamed rice roll with it wrapped with turnip. It was very flavorful and is best eaten with pickled green chili and a sprinkle of sesame seed. It would be nice to have this version in Penang.
We also had a plate of Chee Cheong Fun but this version came with curry gravy, long beans and pig's skin (chue pei). You can hardly find the curry chue pei in Penang.
Also eaten with pickled green chili, very appetizing!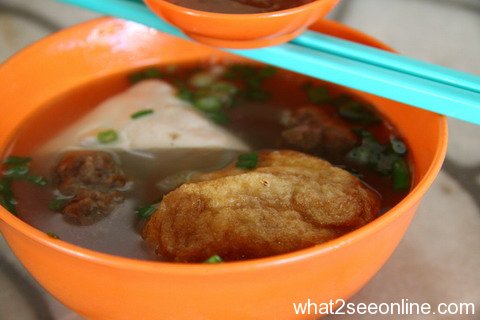 Side orders of homemade Yong Tau Foo
Bidor town is an ideal place for a quick stopover and definitely would be dropping by to explore more food outlets. I did a bit of travelling and lots of eating during this Raya holiday and I hope everyone enjoyed the holiday too!
Teen Hoon
(opposite the wet market)
Business : Early morning till noon
GPS Coordinates : N04 0640.5   E101 1713.6