Penang Bridge International Marathon 2009 Launching @ E&O Hotel
The official launching of the Penang Bridge International Marathon 2009 (PBIM) was held on 14th September 2009 in E&O Hotel, Lebuh Farquhar. Representatives from various organizations involved in the program  attended the event. The marathon itself will be held on 22nd November 2009.
The event was attended by guests, media & reporters
Present on the night was YB Danny Law Heng Kiang, the PBIM and state Tourism Development, Culture, Arts and Heritage Committee chairman who gave the opening speech for this event.
There were many sponsors supporting this year's event with DIGI being the Gold Sponsor and PETRONAS, the Main Sponsor.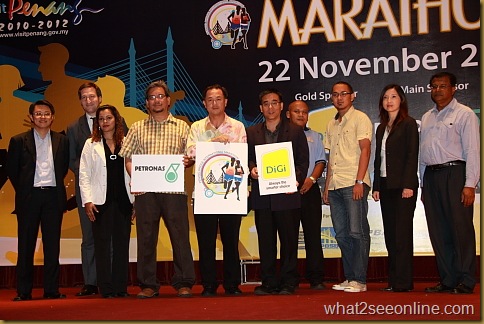 YB Danny Law Heng Kiang with representatives from various organizations
After the speech and the introduction of sponsors, the guests were entertained with a cultural dance with performers all dressed up in colorful traditional outfit.
In the event, the guests were treated to a buffet dinner accompanied with a live band performance.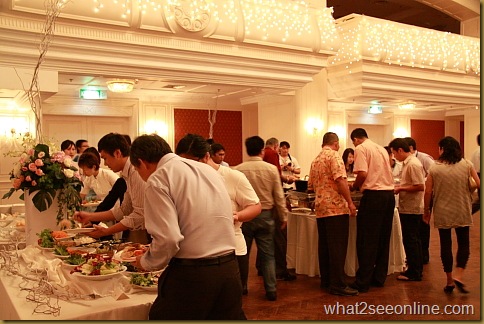 The buffet comes with a selection of ulam-ulam, soup of the day, varieties of popular local dishes such as the Petai Prawn, Curry Fish, Beef Rendang, Curry Chicken, Prawn Fritters, Fried Spring Roll and many more.
As for desserts, there were trays filled with fruit cake, cheese cake, traditional kuih, dates, jellies and fresh fruits with free flow of juices and coffee to accommodate the guests.
The Penang Bridge International Marathon 2009 is an event to look forward to. Hope everyone will register to take part in this marathon on 22nd November. Online registration can be done at https://www.penangmarathon.gov.my/pbim2009/registration/ with the closing date on 22nd October 2009.
For full details of the marathon do visit their official web site: www.penangmarathon.gov.my