Penang Food – Gurney Drive Hawker Center
One of the popular and convenient eating places in Gurney Drive is at the Gurney Drive Hawker Center beside the roundabout. This place mostly patronized by tourist and also by the locals offers variety of Penang hawker food. My favorite food at this hawker center is the Yau Yue Ong Choy (cuttlefish convolvulus) which is also known as Ju Hoo Eng Chai in Hokkien and also the blanched cockles.
Blanched cuttlefish with crisscross pattern looks beautifully curl up
The stall No. 90 which is located right at the end of the row, nearer to Gurney Plaza has huge cuttlefish hanging right in front neatly together with baskets of century egg, cockle and other seashell.
The fresh green convolvulus is commonly known as kangkung
The blanched vegetable, pieces of cuttlefish and jellyfish was served with a combination of Chinese sweet sauce and chili sauce, garnished with coarsely chopped peanuts and toasted sesame seed.
A delicious dish @ RM8
Cockles and other seashells are available in abundance in this stall too. The live cockles are blanched in hot water and best to have them medium cooked. Just dig out the flesh and dip into the chili sauce with chopped garlic…simply yummy. I also love to have the cockles in my Char Koay Teow and Curry Mee.
Blanched plate of cockle @ RM5
There are other types of seashell but I still prefer the cockle although I know of many people who are shunning away from them due to various health reasons.
Several stalls have cuttings of article about them written by various magazine and newspaper including this stall.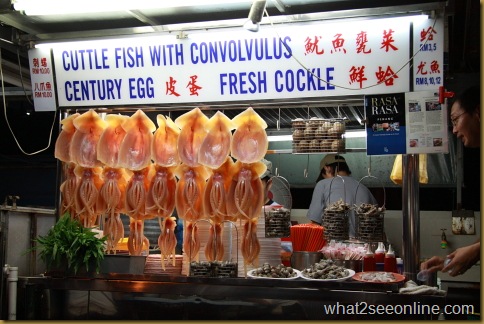 Do look out for the stall No. 68 which sells Wan Tan Mee. I was recommended by a friend to try out the spicy Ma Lat version but unfortunately it was not open on that night.
Gurney Drive Hawker Center
Persiaran Gurney
10250 Penang
Business Hour : 6pm – 12 midnight
Click here for the Map Location