Penang Chu Char – Hokkien & Hainanese Dishes @ See Kong Ooi
See Kong Ooi Restaurant in Transfer Road Penang which specializes in Hainanese and Hokkien chu char dishes is fondly refer as Sai Kong Huin by most of the Penangites Hokkien. It has been around for several decades now, and is still going strong until today!
This post is a collection of my trips to this restaurant, so don't be shocked by the amount of food! I've made the trip there several times with my family and food bloggers BBO, Lingzie, Ken and NKOTB.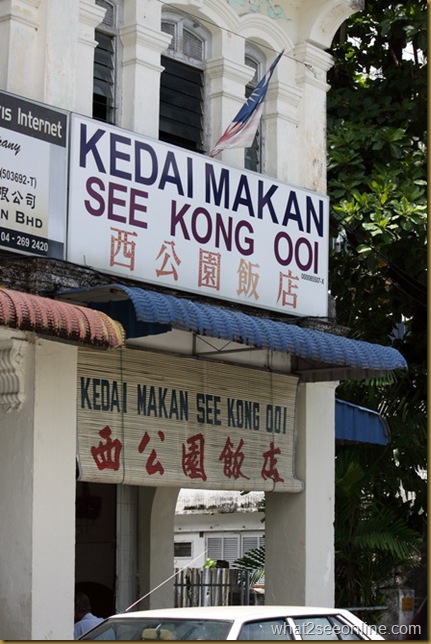 First time visiting a "KEDAI MAKAN"!
It would be very easy making your selection at See Kong Ooi as their menu has remained unchanged throughout the years. Their menu is hung on the wall for convenient viewing.
Among their selection of seafood, we started with the Black Promphet in three flavours. It may be more well known as "SAR BEE" (three flavours in Hokkien), and it was indeed appetizing! Their gravy was very tasty and the chili + onion combo was just fantastic! The Assam Curry Fish has the sourish taste and freshness of the fish, and topped with plenty of onions, tomatoes and lady fingers! The gravy is darker in color as compared to many Assam Curry Fish that I have savored around George Town.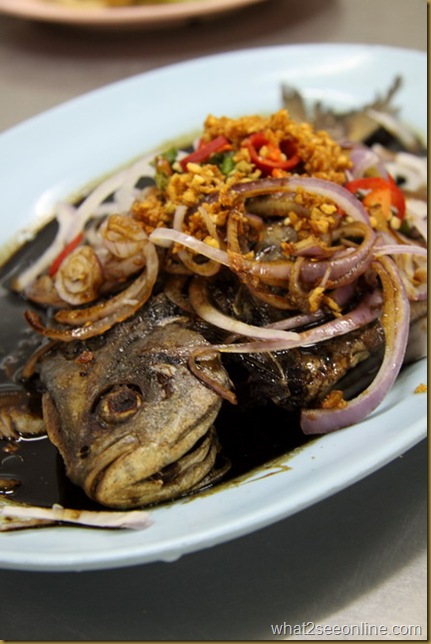 Another seafood item was the prawns, which I find to be quite reasonably priced at See Kong Ooi! Throughout several of my visits there, I managed to try out the Assam Prawn and Sambal Prawn. Both really packed with flavor and succulent flesh. The Assam Prawn can be enjoyed just on its own while the Sambal Prawns with its pungent gravy makes a great dish with the rice.
Assam Prawn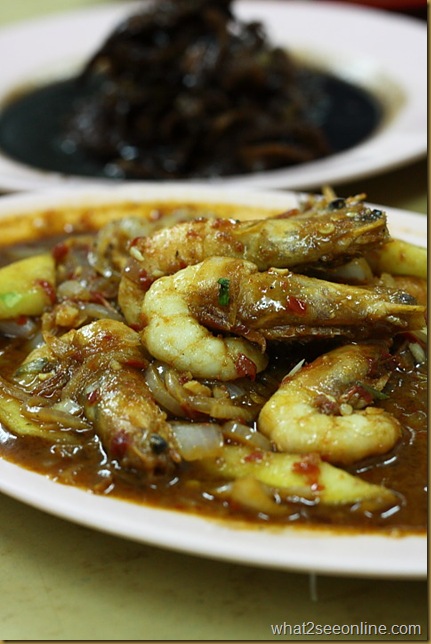 Recommended Sambal Prawn, yummy!
Next on the menu was the meat selection. The fried pork had an authentic feel with the soy sauce tastefully done. We also had the Steamed Mince Meat + Salted Fish, which is very similar to the typical homecooked version.
Salted Fish Steam Minced Meat
Oh well, with all the meat and seafood, of course there must be vegetables to balance it all up. The vegetable were stir fried with wok hei, ranging from the choice of long beans and bean sprout with salted fish.
One of their unique dish was the Shanghainese Vegetable cooked with Pork Slices! The salty preserved vegetable and the spicy taste of the chili makes a very flavorful dish.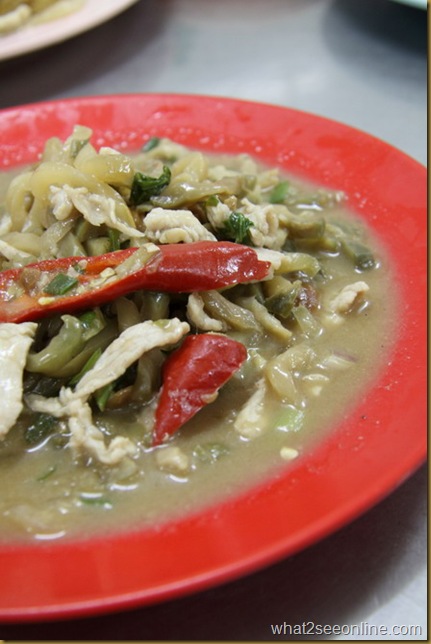 We enjoyed the recommended Egg Soup. Mixed with plenty of minced meatball, vegetables and a fried egg, this simple and tasteful soup rounded off the meal nicely.
This restaurant run by owners Peter and Teddy is located in the folds on Transfer Road, where you can find The Ship and Fung Wei Chinese Restaurant nearby! Parking is abundant right outside this restaurant. Click here for the Map Location.
P.S. This restaurant is accessible using both Burma Road and Jalan Sultan Ahmad Shah.
See Kong Ooi
9 Transfer Road
Penang
Tel : 04 2627845
Business Hour : 11am – 11pm
Category : Non-Halal
GPS Coordinates : N5 2520.5   E100 1952.5
Updates as at November 2009 : They do serve porridge besides white rice.