Ah Chui Seafood @ Paya Terubong Penang
Ah Chui Seafood  is a 'chu char' place tucked away in a row of shop houses facing the very busy Jalan Paya Terubong in Penang. This outlet specializes in seafood and is popular among the neighborhood!
Straight to the restaurant's very own prawn fritters! The crispy deep-fried small prawns were served with chili sauce.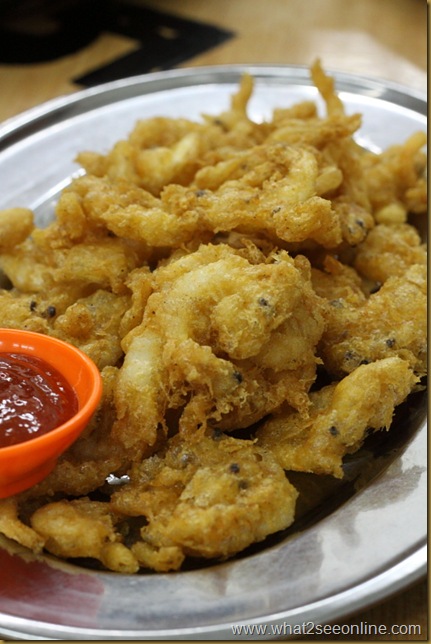 Then it was on to the grilled stingray. This fish was cooked on banana leaves with plenty of homemade chilly paste. The appetizing flavor of the dish went beautifully with the dipping sauce made of tamarind sauce and onions.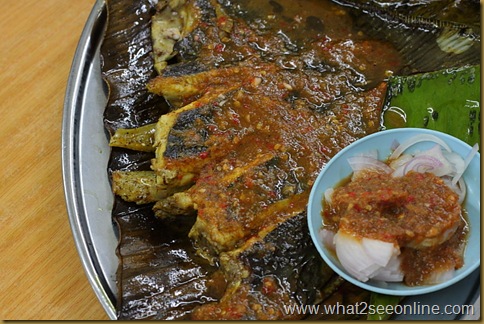 The sauce of the grilled fish was spicy sweet

Next was the homemade fishball soup, very fragrant with added Chinese wine! The fishballs in the soup were squarish in shape with soft texture. I particularly like the dish and would recommend everyone to try it.
The steamed assam fish  did not disappoint. The pieces of fillet were done just right and came with sweet and sour sauce.
We had the sambal belacan fried with lady fingers and onions. It came with great aroma and nice belacan flavor. This dinner cost RM85 inclusive of drinks.
Sambal belacan lady fingers, awesome!

***************************************
Click here for the other visit to this 'chu char'…