Penang Hawker Food – Popiah Crabmeat
Located along the roadside of Jalan Mount Erskine Penang is a small hawker food center.  This food center nearby Fettes Park has most of its stalls sheltered from the afternoon sun by some makeshift tents and shady trees.
The popiah (spring roll) sold in one of the stalls there is slightly different from the regular popiah. Besides all the main ingredients this version comes with crab meat. So far, I have only come across this place and the stall in Padang Brown Hawker Centre using this ingredient.
All the crabs displayed in the stall
Popiah skin/wrapper laid with the basic sweet and chili sauce, lettuce, stewed turnip (yam bean) and bean curd makes a good filling.
The popiah skin is the most crucial ingredient in making the popiah. If you want to know how the popiah skin is made, do check out the entire making process in my other blog.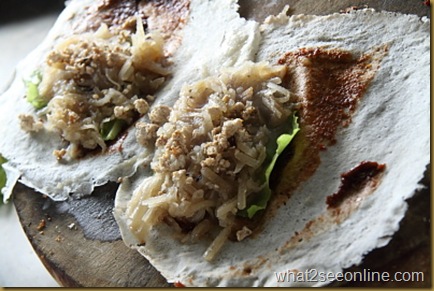 The generous amount of added crab meat and roe gives an extra kick and combustion of taste. We had three rolls as our side dish together with some noodles.
Painstakingly peeled crabmeat
Popiah laden with fillings can be found in this stall run by Mr Yeoh and his wife. Standard two rolls with crab meat cost RM3 whereas the price for "kah liu" extra crab meat will cost RM4.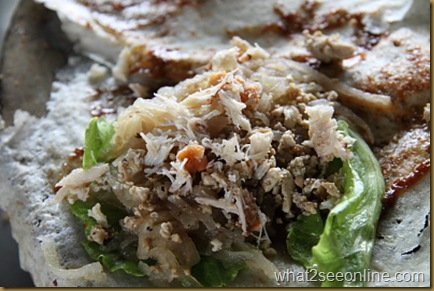 The owner used to sell at the coffee shop beside the Rex Theater, now known as Meiko Home Furnishing along Burma Road. If you are a fan of popiah and like to have it with a crabby twist, do try this out. Click here for the Map Location.
There are other several stalls that dished out quite delicious hawker food which I will be introducing later on.
Hawker Center (near to Fettes Park)
Jalan Mount Erskine,
Tanjung Tokong,
10470 Penang
Business Hour : From lunch till around 5pm