Young Heart Restaurant – Second Food Review
Update:  Young Heart Restaurant has closed
Recently I was invited by a friend to do a food review of Young Heart Restaurant located in Pulau Tikus. In fact this is my second food review of them. Quite a number of Penang food bloggers have wrote about this restaurant lately promoting their Mid Autumn Special meal packages too.
At Young Heart, there are many types of beverages, tea, fruit juices, ice blended and flower tea. We were served with a hot tea drink followed by three refreshing cold drinks. The tea drink with Rosehip hibiscus and green apple – RM9 is a little sourish and is a good detoxifying drink, according to the owner.
We thoroughly enjoyed the Ice blended of mix berry vanilla – RM6 , Honey lemon with added Aloe Vera Jelly – RM6 and the Mix Fresh fruit juice consisting of dragon fruit, beetroot and milk – RM8.
Pure sweetness from the fruit of these cold drinks
The owner, Ann Kee went over the array of dishes served during the evening with us. The starter was the Deep Fried Prawn Dumpling. This restaurant has many variation of dumplings and this was filled with fresh prawns and water chestnuts.
Deep Fried Prawn Dumpling with dips of chili sauce – 4 pieces at RM6
The next dish was the seafood dish of steam scallop with homemade tofu. The two ingredients wrapped inside the cabbage was topped with the fried dried scallop and served with scallop flavored gravy.
Steam scallop with homemade bean curd – 6 pieces at RM9.50
Up next on the table was the Lotus & Wax Sausages Fried Rice. The fat drips from the sausages flavors the rice which has other ingredients of carrot and crunchy lotus root pieces. Delicious!
Lotus & Wax Sausages Fried Rice – RM8.80
This was also another Fried Rice dish but this comes with the Rosey & Soy Chicken together with some stir fried vegetable. The fried rice wasn't appetizing as it lacks the wok hei  compared to the flavorful Lotus & Wax Sausages Fried Rice that we had previously.
Rosey & Soy Chicken with stir fried vegetable & fried rice – RM9.80
I have eaten stir fried asparagus served in many different sauce but this time I get to savor this vegetable stir fried with BBQ sauce. The sauce known as Sar Char Cheong in Cantonese is a rich gravy with a pungent flavor and it goes pretty well with the natural flavor of the asparagus.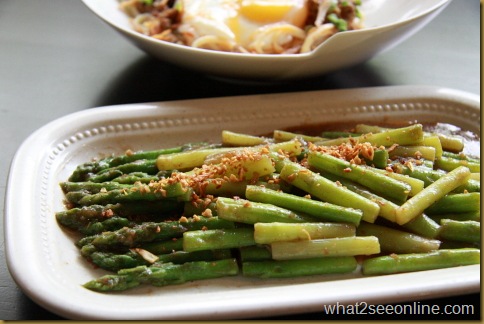 Stir fried Asparagus with Chinese BBQ Sauce – RM10
Click the next page for more dishes…